Two members of the Senate banking committee on Wednesday criticized excess government profits generated off loans made to student borrowers and their families, increasing pressure on Congress and the Obama administration to reform student lending programs.
"Wall Street, student loan servicers, and now the government are reaping profits at the expense of students," said Sen. Sherrod Brown (D-Ohio). "When everyone is benefiting from student loan policy except students and graduates, we have a problem."
"The fact that the government is now expected to profit $51 billion off student loans this year -- more than the annual profit of any Fortune 500 company and about five times the profit of Google -- is just plain wrong," said Sen. Elizabeth Warren (D-Mass). "We should put an end to the practices that generate Fortune 500 profits off of our students."
The Congressional Budget Office forecast on Tuesday that the federal government will turn a record $51 billion profit this year from student loan borrowers, a sum greater than the 2012 earnings of the nation's most profitable companies and roughly equal to the combined net income of the four largest U.S. banks by assets.
The nonpartisan agency increased its 2013 fiscal year profit forecast for the Department of Education by 43 percent to $50.6 billion from its February estimate of $35.5 billion. Most of the profit figure reflects projected lifetime earnings off loans made this year, though a small portion of the profits are from loans originated in recent years. The increase in estimated profits is due to the government's revision of interest rate expectations.
By comparison, Exxon Mobil Corp., the nation's most profitable company, reported $44.9 billion in net income last year. Apple Inc. recorded a $41.7 billion profit in its 2012 fiscal year, which ended in September. JPMorgan Chase, Bank of America, Citigroup and Wells Fargo reported a combined $51.9 billion in earnings last year.
[See UPDATE below for the Education Department's comment.]
Over the last five fiscal years, the Education Department has generated nearly $120 billion in earnings off higher-education loans to student borrowers, according to budget documents, as congressionally mandated interest rates have not moved in line with the broader market. Inaction in Washington, meanwhile, suggests that Democratic and Republican policymakers are content with the status quo.
Brown and Warren denounced the profit figures and urged policymakers to improve the federal student loan system.
"It's wrong that our students are being saddled with high interest rates and a lifetime of debt, and it's time that we give our children and grandchildren a break," said Brown, a leading candidate to take over the Senate banking committee.
The Consumer Financial Protection Bureau estimates there is $1.1 trillion in outstanding student debt. Roughly 85 percent of the loans are guaranteed by the federal government. Millions of students and families who took out federal loans in recent years are paying record relative interest rates as borrowing costs across the economy have fallen for nearly everyone but student debtors.
Warren recently introduced legislation that would reduce rates on some new federal loans to match the interest rate that banks pay to borrow from the Federal Reserve. Her "Bank on Students Loan Fairness Act" would use funds the Fed has earned off its recent investments in mortgage securities and government debt.
Most new federal student loans carry fixed interest rates of either 6.8 percent or 7.9 percent. In recent years loans made to the neediest students have carried a 3.4 percent interest rate, though that rate on subsidized Stafford loans is scheduled to revert back to 6.8 percent in July.
President Barack Obama recently asked Congress to tie interest rates on new federal student loans to the U.S. government's borrowing costs. Leading Democratic senators this week proposed legislation that would keep existing rates on subsidized Stafford loans for another two years.
Neither proposal does anything for existing student debtors.
On Wednesday, the CFPB suggested that student borrowers should consider refinancing their high-rate federal loans into lower-rate private student loans.
"While today's interest rate environment is at historical lows, federal student loan interest rates set by Congress have not gone down on the most common type of loan, the Unsubsidized Stafford Loan," Rohit Chopra, the CFPB official overseeing student debt, wrote in a blog post on the agency's website. "Some borrowers in repayment with excellent credit may be able to qualify to refinance their existing federal student loans with a new loan at a lower rate."
UPDATE: 7:11 p.m. -- Daren Briscoe, Education Department spokesman, said: "Projections of student loan collections over the 40-year loan lifetime window are in no way comparable to annual profit turning by corporations. That said, the Obama administration understands the need to keep student loans affordable, which is why we've introduced repayment options like 'Pay As You Earn' and 'Income Based Repayment', and why the president has put forward a long-term solution that will help middle class students and their families afford college by lowering interest rates on July 1, without adding to the deficit."
Due to government budget rules, the Education Department immediately books lifetime costs or earnings on loans at the time of origination. The estimated profits are similar to how corporations and other organizations report earnings. For example, businesses book future earnings at the time a product is sold. The Obama administration has sought to keep some student loans affordable, though interest rates on the loans remain at record relative levels. The July 1 deadline Briscoe referred to relates to subsidized Stafford loans, which agency budget documents show only constitute about a quarter of all federal student loans estimated to be made in the 2013 fiscal year.
Support HuffPost
The Stakes Have Never Been Higher
Before You Go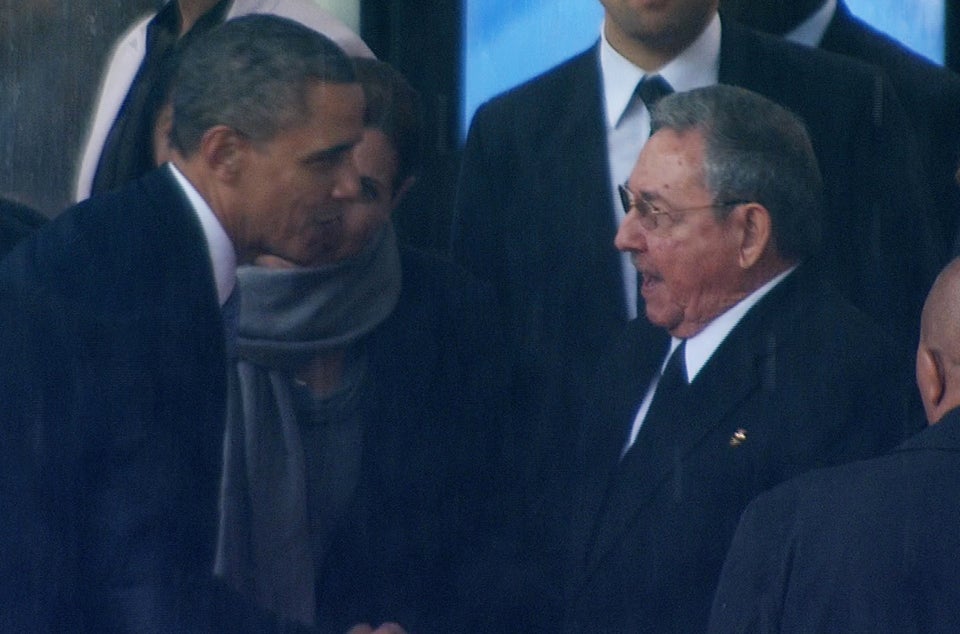 Obama's Handshakes Around The World
Popular in the Community