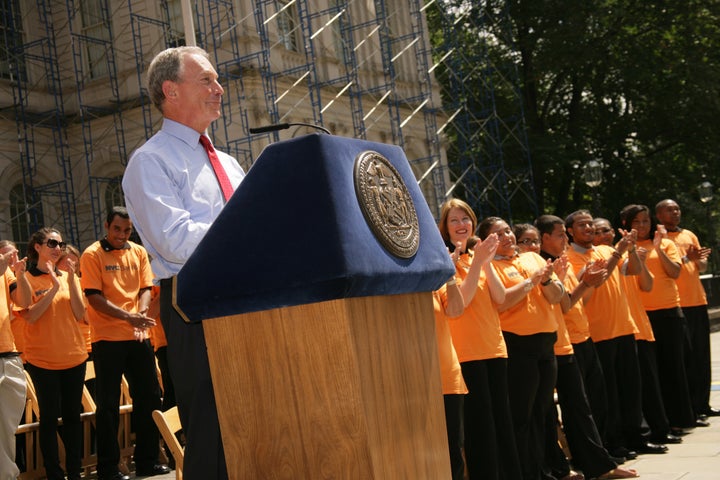 Click the participate button below to join HuffPost's hunt for the most vital community service activities in New York.
Answering President Obama's call for a 'new era of service' and following in his footsteps as community organizers, nearly 200 stimulus-funded New York City Service Corps members were sworn in today by Mayor Michael R. Bloomberg.
With the launch of Serve.gov, which connects citizens with local volunteer opportunities, President Obama held true to his campaign promise that community service would be a cornerstone of his presidency.
But with nearly half of all non-profits laying off staff this year in response to a downturn in philanthropic giving, one of the many casualties of the recession, many nonprofits are straining to accommodate the upsurge in volunteers answering Obama's call to service. The 193 AmeriCorps VISTA members whom Bloomberg swore in today will provide key services to help nonprofits expand their volunteer capacity and will act as force multipliers for volunteer coordination throughout the city.
"With the launch of this exciting new initiative, we take another major step forward in our efforts to answer President Obama's call," said Mayor Bloomberg.
Bloomberg hopes that these organizers, whose salaries are a meager $1,129 a month plus health benefits, will create sustainable volunteer management structures, serving the city for years to come and furthering the Mayor's goals for his NYC Service initiative.
"If we want to make the call to service real in the lives of everyday New Yorkers, we need to invest in the capacity of nonprofits to use more volunteers and to use them more strategically and effectively," said Diahann Billings-Burford, NYC's Chief Service Officer. "That's what the NYC Civic Corps is all about."
The first batch of NYC Civic Corps members will be dispatched in small groups to 57 public and nonprofit organizations to develop more effective volunteer programs that engage New Yorkers to tackle the City's greatest challenges.
These range from innovative organizations like Year Up!, which provides training and experience to urban young adults, to government institutions like the NYC Department of Cultural Affairs.
The Huffington Post is reaching out to the 193 Corps members, asking for their opinions about the top five ways that volunteers can tackle the major problems facing New York City. We invite other volunteer coordinators, nonprofit employees and anyone who volunteers in NYC to weigh in as well.
Tell us what community service you believe is most vital to the city by clicking "Participate" below. In the form that pops up, submit a brief description of your volunteer activity, include why you believe it's important, enter the location of the program on our map and do your best to upload a photo that corresponds to the organization or activity that you choose.
We'll feature the best suggestions next week and have our readers vote to decide the top five most important community service activities in NYC.
Join the conversation by pressing the "Participate" button below!
Calling all HuffPost superfans!
Sign up for membership to become a founding member and help shape HuffPost's next chapter