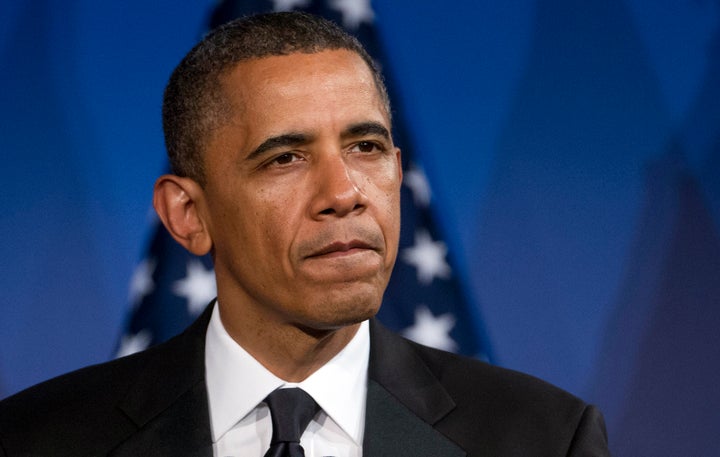 WASHINGTON -- The push to raise unlimited contributions by a super PAC backing President Barack Obama's reelection has run into a number of hurdles since Priorities USA Action was set up by former White House aide Bill Burton in 2011. Major Democratic donors have shunned the group, denying it funds to compete equally with the big Republican super PACs and social welfare nonprofits.
The most common complaint from Obama backers who won't give to the super PAC is one that the president previously voiced: Unlimited money is bad for democracy.
"If we're going to be the party of the people, where do we draw that line?" asked Don Peebles, a real estate developer worth upwards of $350 million and a bundler for the Obama campaign. "At the end of the day, Grant [and] Hamilton don't vote."
Of those who flood super PACs with big donations, Peebles noted, "People aren't just giving this money because they care. They're giving money to influence the government."
Warren Buffett, the third-richest man on Earth, criticized super PACs at a May shareholders meeting: "I don't want to see democracy go in that direction. ... You have to take a stand someplace."
In February, as it became clear that Republican super PACs and other groups would be able to raise and spend well over $100 million in the 2012 election, the president embraced Priorities USA Action, albeit still with reservation, and had his campaign state that he supported its efforts.
Fundraising for the group had been moribund before that. In January it didn't even crack $100,000 in contributions. Since then, donations have ticked up, but not to the levels seen by the Republican groups.
Priorities USA Action has raised $8.9 million through the end of March, making it the fourth best-financed super PAC. That's a fraction of what the big Republican guns -- the pro-Mitt Romney Restore Our Future ($51.9 million) and the Karl Rove-linked American Crossroads ($28 million) -- have pulled in. Social welfare nonprofits, which can raise and spend unlimited amounts without disclosing their donors, are likely to raise tens of millions for Republicans as well.
Well-known Democratic donors have shied away from Priorities USA Action for reasons that go beyond a distaste for dollar-driven democracy.
Billionaires George Soros and Peter Lewis have both avoided giving money to groups that focus on television advertising. Before this campaign, the two men were the only donors to have given in excess of $20 million to political committees in one election cycle, when they funded efforts to defeat President George W. Bush in 2004.
Lewis' spokeswoman, Jennifer Frutchy, told Reuters in April, "The super PACs are nearly all about advertising, and he is loath to contribute toward that."
Soros recently announced that he would begin putting money into super PACs, but only those working to organize on the grassroots level and not focused on ads. "Culturally, the left doesn't do Swift Boat," Soros adviser Michael Vachon told HuffPost's Sam Stein, referring to the ad campaign run by Swift Boat Veterans for Truth to smear the 2004 Democratic presidential candidate, Sen. John Kerry.
Other Democratic donors have made policy an issue in their giving.
The billionaire Hollywood producer who brought us the Mighty Morphin' Power Rangers, Haim Saban, has criticized the president's policy toward Israel and has yet to give to any super PAC, despite stating that he is thinking about it in early February. Saban was the biggest donor to the Democratic Party during the soft-money era, when the party committees, much like super PACs, could accept unlimited contributions.
Wall Street donors have largely turned their backs on the president's reelection campaign. Many are sore about the Dodd-Frank financial reform push and feel that they, and the wealthy in general, have been unfairly demonized by Obama and the Democrats. Moreover, the onetime chief Wall Street fundraiser for Team Obama, former New Jersey Gov. Jon Corzine, is now under investigation for losing $4 billion of customer money when his fund, MF Global, went belly up.
And then there are those big-money givers who backed Hillary Clinton in the 2008 Democratic primary. A Bloomberg report from April found they were waiting for major Obama backers like Penny Pritzker, national finance chair of the president's 2008 campaign, and others to give to Priorities USA Action first.
The super PAC has raised some money from historically big Democratic donors, including media mogul Fred Eychaner ($500,000), investor Bernard Schwartz ($100,000) and the Service Employees International Union ($1.5 million).
So far, Hollywood has been the biggest source of funds for the group, including donations from DreamWorks executive Jeffrey Katzenberg ($2 million), HBO talk show host Bill Maher ($1 million), comedian Chelsea Handler ($150,000), director Steven Spielberg ($100,000) and creator-director J.J. Abrams ($50,000).
According to the super PAC's latest reports, only eight of Obama's 532 bundlers, individuals who raise large sums for the campaign, have given to Priorities USA Action. These include Katzenberg, Eychaner, Wayne Jordan, Robert Roche, Sandra Thompson, Lawrence Fish, Joseph Falk and Orrin Kramer.
Priorities USA Action is also lagging in pulling the biggest donors. Restore Our Future has received contributions of at least $1 million from at least 17 donors, and American Crossroads has received $1 million-plus contributions from eight donors. Priorities has received those huge sums from only four donors.
The super PAC will report its next batch of donors on May 20.
Popular in the Community