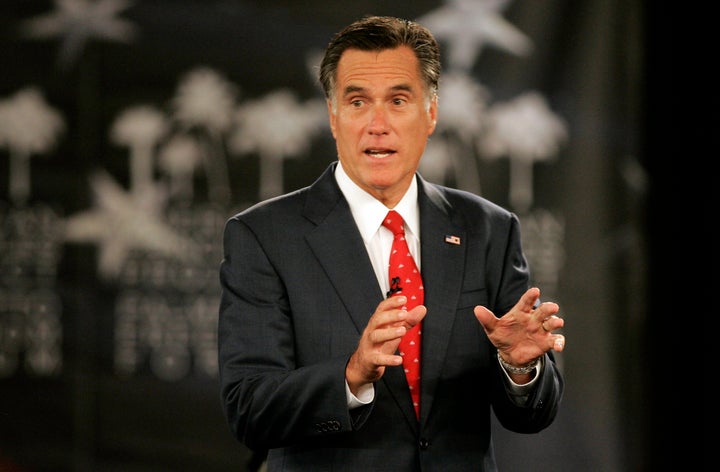 WASHINGTON -- The Obama allied Priorities USA Action Super PAC is putting $100,000 behind an expansive digital campaign attacking Mitt Romney.
The highlight of the new campaign is a high-production-value web video aimed squarely at the president's most likely general election opponent. The push also includes a ramped up Facebook presence and web advertising.
The campaign's attack line is a sharp departure from the one the president's team of political advisers have most recently pushed. Rather than tarring Romney as core-less opportunist, the Priorities USA Action spot paints the former Massachusetts governor as firmly within one political camp. The group highlights Romney's embrace of the Tea Party, statement that "corporations are people," and defense of Justices like Antonin Scalia and Clarence Thomas. It also accuses Romney of wanting to ignore global warming, repeal health care, and defund Planned Parenthood, despite once believing in climate change, pursuing health care reform, and supporting the family planning organization.
WATCH the new video:
The fact that Priorities USA Action, which is prohibited from coordinating with the Obama campaign, is pushing a different attack line against Romney is easily explainable if not all that remarkable (Obama aides have also argued that Romney's given himself over to the conservative wing of the GOP). In 2008, the president's political advisers tried to unify the Democratic Party's message by encouraging donors to send money solely to the campaign. This time around, they're far more willing to trade away that type of discipline for additional attack dogs.
"More middle class Americans have lost their jobs under President Obama than any president in modern history," Andrea Saul, a spokesman for Romney for President said in response to the new campaign. "While Mitt Romney is focused on his jobs and economic plan which will provide relief for the middle-income taxpayers, President Obama and his cronies are worried about their own jobs. It is no surprise since President Obama cannot run on his failed record that his political allies resort to false and negative attacks on Mitt Romney."
Bill Burton, one of Priority USA's founders and a former deputy press secretary in the Obama administration, said the digital campaign being launched on Wednesday is the second largest effort undertaken by the organization. The group spent $750,000 earlier this year on a national television ad campaign that targeted Republicans for backing efforts to turn Medicare into a voucher system.

That spot was far broader in target than the current one, which reflects the growing consensus inside Democratic ranks that Romney is Obama's likely opponent and he must be quickly defined.
"We made this video to give life to the policies our country could expect if Mitt Romney were elected President," said Burton. "As Americans look ahead to a critically important election a year from this week, we are beginning the process of helping Americans know the truth about what Mitt Romney's America would look like."