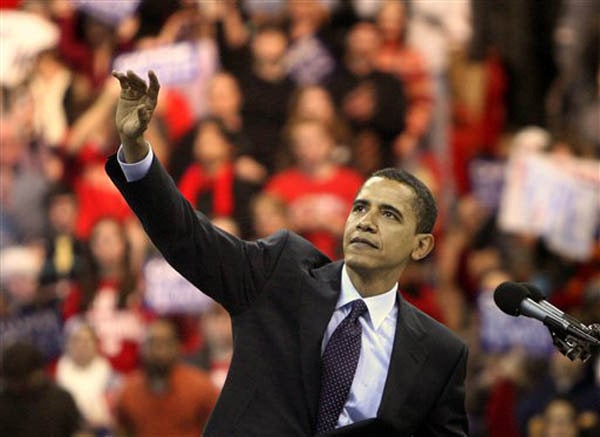 Sometime tonight, after the House and Senate finish voting, members of Congress who are backing Barack Obama's presidential bid will huddle in the Capitol Hill living room of Rep. Rosa DeLauro (D-Conn.) to map strategy to capture more superdelegates for the Illinois senator.
Obama's top congressional superdelegate wranglers will aim to be there: On the House side, Rep. George Miller (D-Calif.) and Rep. Jan Schakowsky (D-Ill.) and Sen. Dick Durbin (D-Ill.), who is handling the Senate portfolio. Mike Robertson, Obama's delegate and congressional relations coordinator, is also expected to be on hand.
They will go over lists of possible recruits broken down by state, region and by particular interests. Superdelegates are elected officials -- all Democratic members of Congress, Democratic governors, many state and local officials --who automatically have a vote at the Democratic nominating convention in Denver.
Many past and present Democratic party officials are also superdelegates, such as former Democratic National Committee Chairman David Wilhelm, who today is expected to declare his support for Obama. Wilhelm, who managed Bill Clinton's 1992 presidential bid, moved from Chicago to Bexley, Ohio, near Columbus, and was a strategist for Sen. Joe Biden (D-Del.) until he dropped out.
Though Obama thumped Hillary Clinton on Tuesday, the delegate vote may be close if Clinton prevails in the March 4 contests in the delegate-rich states of Texas and Ohio. That's why the spotlight is on the 796 superdelegates -- though there are two vacancies, with the recent deaths of Rep. Tom Lantos (D-Calif.) and former Cook County Board President John Stroger.
Obama has a campaign-within-a-campaign targeting the superdelegates, with Matt Nugen, the national political director, and Jeff Berman, the national director of delegate operations and ballot access, keeping tabs as campaign chief David Plouffe oversees the process, parceling out who calls whom.
Read the rest of the story here.
Popular in the Community