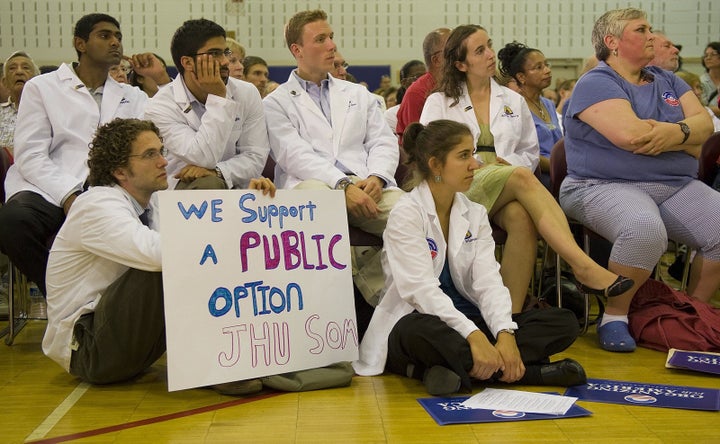 COLUMBUS,OH --Traveling across Ohio Tuesday as an embedded reporter on the Health Insurance Reform Now: Let's Get It Done Bus Tour with Obama's field team, I heard the same message from Ohioans of every walk of life: While opponents of health insurance reform are the ones being featured every day in the news -- screaming and yelling about socialism and death panels -- supporters have been working quietly to make health care reform happen, and they're tired of a small, loud minority getting all of the attention.
Almost every rally goer I spoke with told me that the media is covering the sensational story instead of the real story, and they're mad about it. But as one Ohioan mother put it, "Unlike the tea party people, we aren't acting out."
Supporters of health insurance reform are undoubtedly angry. Over and over, Ohioans told me that they are tired of hearing the media give credence to myths that have already been disproved -- like death panels, Medicare changes, and bureaucrat-controlled health care. When the head of the Dayton AFL-CIO spoke about these myths at the Dayton rally, "suicide counseling" got a big laugh from the crowd, but it was a wry laugh with heads shaking all around.
"I'm so sick of all the yelling." The words of Tina Moody, a Columbus resident, have been echoed throughout the bus tour stops.
In Columbus, about a dozen protesters showed up outside the event holding fresh lemons, shouting that Obama's health insurance reform is a lemon. One protester was so loud and aggressive that she ended up by herself, stalking attendees as they tried to enter, shouting tea party "announcements" just inches from their faces as they walked past. While there were 2,500 supporters inside, most media outlets came outside to get footage of the 12 protesters outside.
"Supporters of health insurance reform are turning out in larger numbers every day," Jeremy Bird, the National Deputy Director of Organizing for America, told the crowd at one event, "You are the majority. You voted on November 4th."
Jolene Crowell, an OFA volunteer in Dayton, says that she has trouble recruiting new volunteers because they've been intimidated by the angry reactions portrayed in the news. She says, "The loudest are the sexiest news story." Crowell has been organizing teams to collect signatures in support of health care reform in high foot-traffic areas around Dayton, and she says the response has been overwhelmingly positive, but, "The few who object are really loud and distracting."
A doctor who teaches at Ohio State University Medical School says that most doctors want health insurance to be reformed, but he believes their voices are being drowned out by the misinformed, "The health insurance industry has ruined health care in America."
In Columbus I spoke with a small business owner who was motivated to attend the rally "because the general talk is that health care reform is bad for small businesses." But, she says, "I had a 23 percent increase in health insurance costs last year. I've had to raise premiums and deductibles, and my employees can't afford to keep their health insurance."
A couple of weeks ago, I went to a local town hall in one of the reddest districts in Arizona. It was boring. A total snoozefest. No crazy tea bagger signs. No yelling and screaming inside. About every other question was in support of health insurance reform. Outside, though, there were a handful of angry anti-reformers. So, reporters bored with the event inside began to wander outside looking for a story. On the local evening news, they showed clips of the shouting and yelling outside. Instead of looking for the real story, reporters across America are looking for ways to turn the real story into a better, more sensational tale.
Calling all HuffPost superfans!
Sign up for membership to become a founding member and help shape HuffPost's next chapter