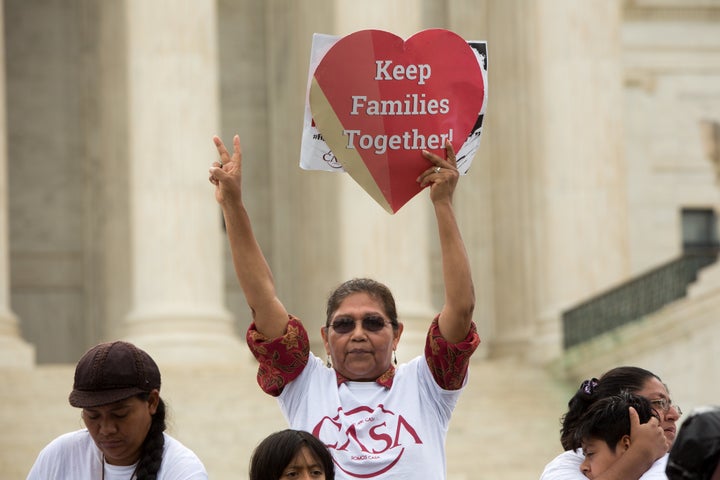 In what appears to be a peculiar move, the government said in its petition that it would like the case to be reconsidered "before a full nine-Member Court."
"Ordinarily, it is exceedingly rare for this Court to grant rehearing," the petition read. "But when this Court has conducted plenary review and then affirmed by vote of an equally divided court because of a vacancy rather than a disqualification, the Court has not infrequently granted rehearing before a full Bench."
In a statement accompanying the petition, the Department of Justice said there's precedent for this kind of play.
"This filing is consistent with historical practice and reflects the need for prompt and definitive resolution of this important case," said Melanie Newman, a department spokeswoman.
Because the court's tied June decision set no precedent and left in place an injunction blocking the president's Deferred Action for Parents of Americans and Lawful Permanent Residents — or DAPA ― the administration urged the Supreme Court to grant the petition. Obama's executive action would have granted a reprieve of deportation and work authorization to parents of U.S. citizens and others who are lawfully in the country.
It appears the justices wouldn't have to act on the request until the court's ninth member is confirmed. So far, Senate Republicans have showed no intention to hold a hearing or a vote on Merrick Garland, Obama's choice to replace the late Justice Antonin Scalia.
Obama last month called the Supreme Court ruling in the case "heartbreaking" for millions of immigrant families and blamed it on the Senate's refusal to act to fill the Scalia seat.
Progressive and immigrant-rights groups said DOJ made the right call in seeking another hearing once the court gets a ninth justice.
"Last month's 4-4 tie in the Supreme Court was tremendous blow to millions of immigrant families who are long overdue for relief," Frank Sharry, executive director of America's Voice, said in a statement. "This case reflects what happens when politicians and members of the judiciary play politics with people's lives."
Elizabeth Wydra, president of the Constitutional Accountability Center ― an organization that has filed legal briefs at different stages in the litigation ― noted the government's move was "unusual," but expected given the gridlock in Congress.
"Because we have a short-staffed Court unable to issue a decision on the DAPA program, a regional lower court has been able to put unprecedented constraints on the executive and stop a federal policy nationwide, affecting millions of American families," Wydra said in a statement.