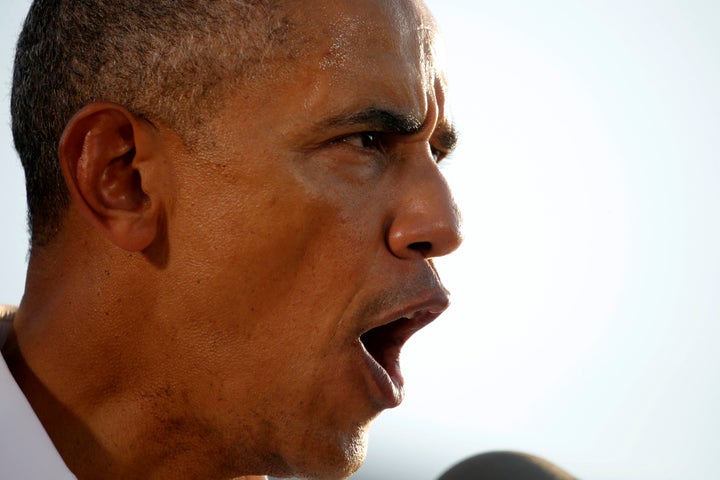 "Some are saying they won't appoint a ninth Supreme Court justice at all," Obama said. He noted Burr "just said that if Hillary wins, he'll do everything he can to block all Supreme Court nominations."
Their initial talking point, announced by Senate Majority Leader Mitch McConnell (R-Ky.) on the very day of Scalia's death, was that the next president, not the one now in the White House, should get to nominate the next justice. Judge Merrick Garland, the choice Obama made a month later, has been sitting on his hands ever since without a hearing or a vote.
The president saw right through the latest shift in Republican strategy during his Wednesday remarks at the University of North Carolina at Chapel Hill.
"Now keep in mind, the reason they said they wouldn't have a hearing or vote for my Supreme Court nominee, bucking all of American history, was because, 'We thought the American people should decide the next Supreme Court justice,'" Obama said. "Now they're saying, 'Well, if they don't decide the way we want them to decide, maybe we won't even do that.'"
Then he turned his fire on Burr.
"Eleven years ago, Richard Burr said a Supreme Court without nine justices would not work. Well, what changed?" Obama said. "What, only Republican presidents get to nominate judges? Is that in the Constitution? I used to teach constitutional law. I've never seen that provision."
Democrats have been on high alert since Republicans began signaling more obstructionism on current and future judicial vacancies. Clinton's running mate, Sen. Tim Kaine (D-Va.), told The Huffington Post last week that a Democratic Senate might do away with the effective 60-vote standard for confirming a Supreme Court justice.
"Give Senators the procedural tools to block any liberal nominee," read a recent fundraising email from the Heritage Foundation, a policy think tank.
HUFFPOST READERS: What's happening in your state or district? The Huffington Post wants to know about all the campaign ads, mailers, robocalls, candidate appearances and other interesting campaign news happening by you. Email any tips, videos, audio files or photos to scoops@huffingtonpost.com.
Popular in the Community