 WASHINGTON -- The White House learned its lesson earlier this month when it urged a Senate vote on Debo Adegbile, a key Justice Department nominee, and then watched his nomination fall apart for political reasons -- with the help of some Democrats.
Administration officials aren't about to let that disaster play out again with Vivek Murthy, the president's nominee for U.S. surgeon general.
Murthy, a physician at a top Boston hospital and a teacher at Harvard Medical School, cleared the Senate Judiciary Committee in February with the support of all Democrats and one Republican, Sen. Mark Kirk (Ill.). He would be the first Indian-American surgeon general, if confirmed, and he's supported by more than 50 key organizations and figures in the health and wellness community, per the White House.
But past comments he made in support of gun control have drawn strong opposition from the National Rifle Association and Gun Owners of America. Specifically, in his role as the leader of Doctors for America, Murthy called gun violence "an important public health issue" and urged a ban on military-style assault weapons after the Sandy Hook Elementary shootings in December 2012. That position isn't sitting well with powerful leaders in the gun lobby.
"Simply put, confirmation of Dr. Murthy is a prescription for disaster for America's gun owners," Chris Cox, executive director of the NRA's legislative arm, wrote to Senate leaders in February.
To be sure, gun deaths cost the U.S. health care system billions of dollars each year. But unlike other major causes of death like heart disease or cancer, federal medical research agencies are currently forbidden by law to finance studies that aim to reduce the harm from guns or, as the law phrases it, "advocate or promote gun control." Obama has taken steps to restart that research, but under current law, the surgeon general has little direct influence on the matter.
Nevertheless, the NRA is opposing Murthy's nomination and putting pressure on conservative Democrats in tight reelection campaigns, which is a major reason why Murthy doesn't have the votes for confirmation. So his nomination is now hanging in limbo, as Senate Democratic leaders look to the president to figure out the next steps.
"No vote scheduled right now, while we wait for the White House to decide how they want to deal with him," said a senior Senate Democratic aide, who requested anonymity.
"We're down Democratic votes, and the White House needs to decide whether they want us to vote anyway (and lose), fight to bring some of the Democrats back on board, or pull the nominee," the aide said. "Until they decide, we wait."
White House press secretary Jay Carney on Monday praised Murthy as a "dynamic practitioner" and said the administration isn't giving up on him.
"We are recalibrating our approach," he said during his daily briefing. "We expect him to ultimately get confirmed and be one of the country's most powerful messengers on health and wellness."
Carney wouldn't say if "recalibrating" will necessitate Obama personally lobbying senators to support Murthy, or if the White House is working with outside groups to build public support for his confirmation. But when pressed on whether the president is considering replacing Murthy with another nominee, Carney said that's not the case.
The Huffington Post reached out to a number of senators who could be key votes in confirming or sinking Murthy, namely Democrats in more conservative states and Republicans who supported key legislation last year aimed at tightening background checks on gun sales.
A spokesman for Sen. Joe Manchin (D-W.Va.), who authored last year's background checks bill, said he is undecided for now on Murthy. Similarly, a spokeswoman for Sen. Heidi Heitkamp (D-N.D.) said she is "examining all nominees" under Senate consideration.
Sen. Mark Begich (D-Alaska) is "a likely no," according to his office. Sen. Pat Toomey (R-Pa.), who co-sponsored the background checks bill, said in a statement he will oppose Murthy because, among other things, "he has advocated for policies that would erode our important Second Amendment rights."
A spokesman for Sen. John McCain (R-Ariz.), who voted for the background checks measure, said he hasn't weighed in on Murthy's nomination yet.
Aides to Sens. Mark Pryor (D-Ark.), Mary Landrieu (D-La.), Joe Donnelly (D-Ind.), John Walsh (D-Mont.), Kay Hagan (D-N.C.), Susan Collins (R-Maine) and Kirk did not respond to a request for comment.
Before You Go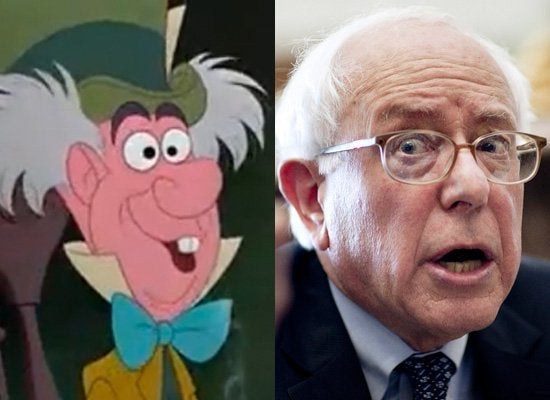 Politicians Who Look Like Disney Characters
Popular in the Community