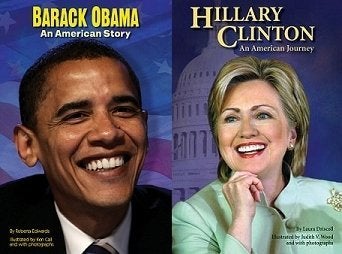 He beat her in the last eight primaries. He's beating her in the popular vote. He's beating her in pledged delegates, artsy music videos and Kennedy family members — and now, he's beating her in children's book sales. On the February 24th edition of the New York Times best seller list — which inexplicably is released now but not published until the weekend after February 24th — #9 on the Children's Paperback list will be proudly occupied by Barack Obama: An American Story by Roberta Edwards, published by Grosset & Dunlap, a Penguin children's imprint. Grosset & Dunlap also published Hillary Clinton: Am American Journey by Laura Driscoll , which has not yet hit the list. Both books were published in August 2007 (at the same time); this is the first time either title has hit the list. Chalk another one up for Obamomentum!
Here are close-ups of the covers for your viewing enjoyment. Buy them both together for a children's book dream ticket!

Calling all HuffPost superfans!
Sign up for membership to become a founding member and help shape HuffPost's next chapter