"America's proud to stand shoulder to shoulder with these nations on behalf of our common security," Obama said, noting over 40 nations have offered to help.
Obama said the U.S. will move forward with a plan to train and equip the Syrian opposition, noting that plan of action is "supported by bipartisan majorities in Congress."
Obama also spoke on a separate, unilateral air attack on the Khorasan Group, a network of seasoned al Qaeda veterans.
"It must be clear to anyone who would plot against America and try to do Americans harm that we will not tolerate safe havens for terrorists who threaten our people," Obama said.
"We're going to do what's necessary to take the fight to this terrorist group for the security of this country, and this region, and the entire world," Obama added.
"I can tell you that last night's strikes were only the beginning," Rear Adm. John Kirby, the Pentagon press secretary, said.
Central Command said that separate bombing mission was undertaken solely by U.S. aircraft and took place west of the Syrian city of Aleppo. It said targets included training camps, an explosives and munitions production facility, a communication building and command and control facilities.
The airstrikes against Islamic State targets were carried out in the city of Raqqa and other areas in eastern Syria by a mix of manned aircraft — fighter jets and bombers — plus Tomahawk cruise missiles and drone aircraft. The strikes were part of the expanded military campaign that President Barack Obama authorized nearly two weeks ago in order to disrupt and destroy the Islamic State militants, who have slaughtered thousands of people, beheaded Westerners — including two American journalists — and captured large swaths of Syria and northern and western Iraq.
In this photo released by the U.S. Navy, the guided-missile cruiser USS Philippine Sea launches a Tomahawk cruise missile at Islamic State group positions in Syria on Tuesday. (AP Photo/Eric Garst, U.S. Navy)
In its written statement detailing the operation, Central Command said the airstrikes, which officials said began around 8:30 p.m. EDT, were conducted by the U.S., Bahrain, Qatar, Saudi Arabia, Jordan and the United Arab Emirates. It said the five Arab partner countries "participated in or supported" the airstrikes against Islamic State targets. It was not more specific.
Central Command said the U.S. fired 47 Tomahawk cruise missiles from aboard the USS Arleigh Burke and USS Philippine Sea, operating from international waters in the Red Sea and the northern Persian Gulf. U.S. Air Force, Navy and Marine Corps fighter jets, drones and bombers also participated.
The first wave of strikes finished about 90 minutes later, but the operation was expected to continue for several more hours, according to one U.S. official, who spoke on condition of anonymity because he was not authorized to speak publicly by name about an ongoing mission.
Syria's Foreign Ministry said the U.S. informed Syria's envoy to the U.N. that "strikes will be launched against the terrorist Daesh group in Raqqa." The statement used an Arabic name to refer to the Islamic State group.
At a conference on Sept. 11 with Secretary of State John Kerry, key Arab allies promised they would "do their share" to fight the Islamic State militants. The Obama administration, which at a NATO meeting in Wales earlier this month also got commitments from European allies as well as Canada and Australia, has insisted that the fight against the Islamic State militants could not be the United States' fight alone.
Russia's foreign ministry warned Tuesday that what it called "unilateral" air strikes would destabilize the region. "The fight against terrorists in the Middle East and northern Africa requires coordinated efforts of the entire global community under the auspices of the U.N.," the foreign ministry said in a statement.
Activists said the airstrikes hit targets in and around the Syrian city of Raqqa and the province with the same name. Raqqa is the Islamic State group's self-declared capital in Syria.
This photo provided by an anti-Bashar Assad activist group Edlib News Network, which has been authenticated based on its contents and other AP reporting, show according to them Syrian citizens checking a damaged house that was targeted by the coalition airstrikes, in the village of Kfar Derian, a base for the al-Qaida-linked Nusra Front, a rival of the Islamic State group, between the northern province of Aleppo and Idlib, Syria, on Tuesday. (AP Photo/Edlib News Network ENN)
Rami Abdurrahman, who heads the Britain-based Syrian Observatory for Human Rights, told The Associated Press, "There is confirmed information that there are casualties among Islamic State group members."
He added that missiles also targeted the towns of Tabqa, Ein Issa and Tel Abyad, as well as the village of Kfar Derian, which is a base for the al-Qaida-linked Nusra Front, a rival of the Islamic State group.
Another activist, Mohammed al-Dughaim, based in the northern Syrian province of Idlib, confirmed that several airstrikes hit Kfar Derian in the early hours of Tuesday. He said there were civilians among the casualties.
An amateur video posted online Tuesday shows explosions going off at night in an open area, blasts that are said to be from coalition airstrikes. The narrator in the video is heard saying that the footage shows the "bombardment of the Kfar Derian village."
The head of the main Western-backed Syrian opposition group, Hadi Bahra, welcomed the commencement of airstrikes in Syria.
"We have called for airstrikes such as those that commenced tonight with a heavy heart and deep concern, as these strikes begin in our own homeland," he said in a statement. "We insist that utmost care is taken to avoid civilian casualties."
In a speech Sept. 10, Obama vowed to go after the Islamic State militants wherever they may be. And his military and defense leaders told Congress last week that airstrikes within Syria are meant to disrupt the group's momentum and provide time for the U.S. and allies to train and equip moderate Syrian rebels.
The U.S. military has been launching targeted airstrikes in Iraq since August, focusing specifically on attacks to protect U.S. interests and personnel, assist Iraqi refugees and secure critical infrastructure. Last week, as part of the newly expanded campaign, the U.S. began going after militant targets across Iraq, including enemy fighters, outposts, equipment and weapons.
To date, U.S. fighter aircraft, bombers and drones have launched about 190 airstrikes within Iraq.
Urged on by the White House and U.S. defense and military officials, Congress passed legislation late last week authorizing the military to arm and train moderate Syrian rebels. Obama signed the bill into law Friday, providing $500 million for the U.S. to train about 5,000 rebels over the next year.
The militant group, meanwhile, has threatened retribution. Its spokesman, Abu Mohammed al-Adnani, said in a 42-minute audio statement released Sunday that the fighters were ready to battle the U.S.-led military coalition and called for attacks at home and abroad.
This post has been updated with more information on the airstrikes.
Support HuffPost
The Stakes Have Never Been Higher
Before You Go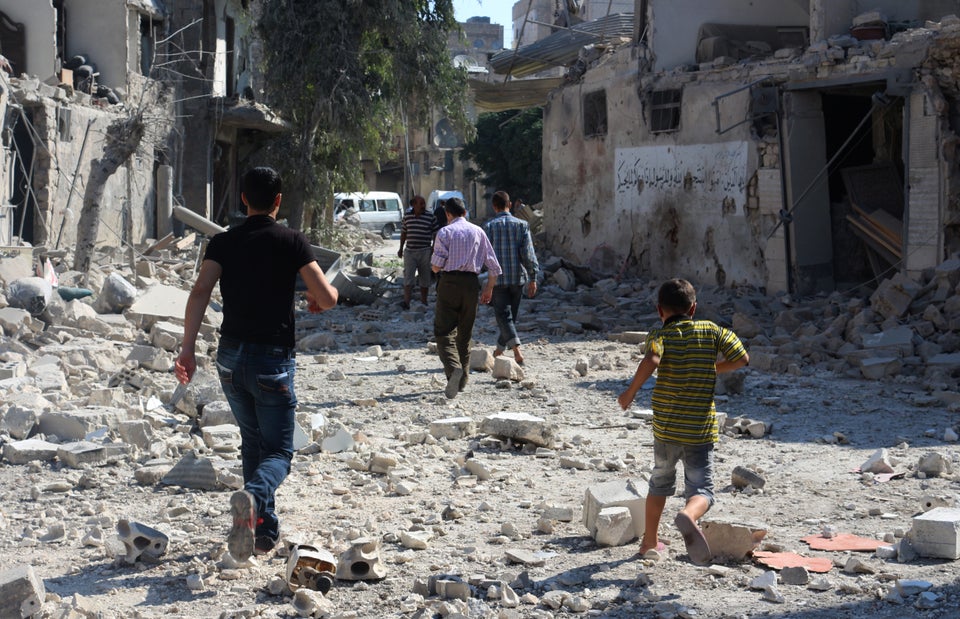 Syria War In August
Popular in the Community