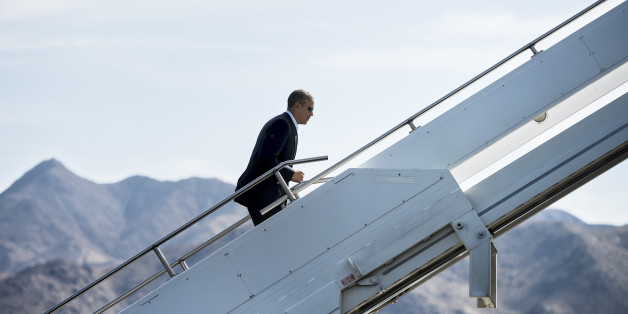 ISTANBUL -- Ever since President Barack Obama expressed "enormous frustration" over the situation in Syria at a press conference last week, a number of signals have pointed to a potentially significant shift in his administration's approach to the festering crisis there.
In a Wall Street Journal article published Monday, senior administration officials indicated there is a growing consensus that "it's time to take another look" at the options in Syria. And late last week, Secretary of State John Kerry told reporters that Obama has asked advisers to think anew about the "various options that may or may not exist."
The outcome of this rethink is far from certain. White House officials deny that there have been any policy changes as of yet or that direct military action is among the options being considered. But already there is evidence the White House has dialed back some of its previous concerns about other nations taking more aggressive action, such as providing the Syrian rebels with advanced weaponry.
On Friday, The Wall Street Journal reported that the government of Saudi Arabia, working with the CIA, would begin to deliver heavy-duty anti-aircraft weapons to rebels in southern Syria. That aid would boost the rebels' fighting capacity significantly, yet U.S. officials have previously noted it could also increase the threat of terrorism against civil aviation in the region.
White House officials, publicly at least, downplayed the significance of the debates and the rhetoric, saying that too much is being made in the press and elsewhere of standard policy deliberations.
"As the president has made clear, we are constantly looking at what options we can take to resolve the crisis in Syria," said Bernadette Meehan, spokeswoman for the National Security Council, in an email. "We are going to continue to work with all of the parties concerned to try to move forward on a diplomatic solution."
But the change in language from top officials, including the president himself, is hard to miss.
Just a few months ago, Obama defended the slow and deliberate pace of his Syrian policy in a New Yorker interview, noting that his national security team had considered every possible scenario "of America financing and supplying arms to an insurgency in a country that actually worked out well."
"And they couldn't come up with much," he said. "We have looked at this from every angle."
Since then, however, two rounds of talks in Geneva faltered, and the Syrian regime escalated its campaign of airstrikes against Aleppo, driving as many as a half-million people from the country's largest city.
"Nobody's going to deny that there's enormous frustration here," Obama said during an appearance last week with French President Francois Hollande. "Right now we don't think that there is a military solution per se to the problem. But the situation's fluid, and we are continuing to explore every possible avenue to solve this problem -- because it's not just heartbreaking to see what's happening to the Syrian people, it's very dangerous for the region as a whole."
Kerry has recently been even more outspoken, criticizing the bombing of Aleppo as a "barbaric act" and suggesting bluntly that the Russian government was complicit in the ongoing catastrophe there.
"They're, in fact, enabling [Syrian President Bashar] Assad to double down, which is creating an enormous problem," Kerry said of Russia on Monday, during a trip to Jakarta.
"It is important for the world to consider in these next days exactly what steps can now be taken in the face of this intransigence that is creating an even greater human catastrophe by the moment," Kerry added.
Last year, Gen. Martin Dempsey, chairman of the Joint Chiefs of Staff, told Congress that any approach to the crisis in Syria that involved direct American action was likely to be costly and lead to "unintended consequences." So far, both he and Obama seem to still hold that position.
REAL LIFE. REAL NEWS. REAL VOICES.
Help us tell more of the stories that matter from voices that too often remain unheard.
BEFORE YOU GO
PHOTO GALLERY
Syria War In August (Warning: Graphic Images)