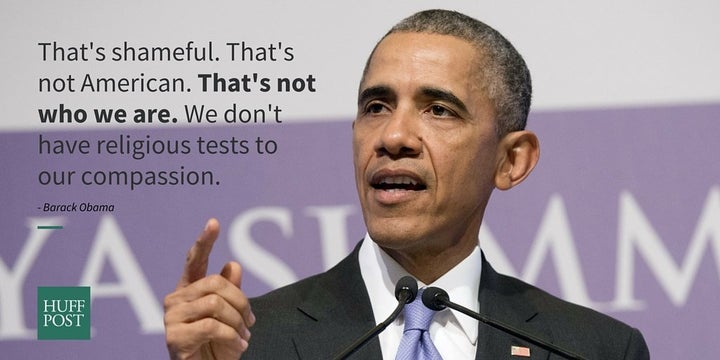 WASHINGTON -- As more Republicans call for the U.S. to stop admitting Syrian refugees in light of terrorist attacks in Paris, President Barack Obama said Monday he remains committed to taking in Syrians, as long as they are vetted.
"As president, my first priority is the safety of the American people, and that's why even as we accept more refugees, including Syrians, we do so only after subjecting them to rigorous screening and security checks," he said during a press conference in Turkey after the G-20 summit.
Obama said people should "remember that many of these refugees are the victims of terrorism themselves."
"That's what they're fleeing," he continued. "Slamming the door in their faces would be a betrayal of our values. Our nations can welcome refugees who are desperately seeking safety and ensure our own security. We can and must do both."
He also had harsh words for Republicans who have said the U.S. should only admit Syrian Christians, pointing out that accepting all faiths is one of the things that separates the U.S. from the Islamic State, also known as ISIS and Daesh.
"That's shameful," Obama said. "That's not American. That's not who we are. We don't have religious tests to our compassion."
Obama previously committed to admitting 10,000 Syrians this fiscal year, as part of a plan to take in 85,000 refugees total. Refugees who move to the U.S. are first vetted by the government and typically also the United Nations Refugee Agency, in a process that usually takes 18 to 24 months.
But a number of Republicans have said that policy risks admitting members of the Islamic State -- which has now taken credit for terrorist attacks in Paris that killed more than 120 people.
A Syrian passport was found near the body of one of the Paris suicide bombers, and the Greek government said it was used by someone who landed there in early October. That has bolstered arguments that members of the Islamic State are among those entering Europe as migrants, although, as The Guardian points out, it has yet to be confirmed whether the passport belonged to the suicide bomber, or if it was stolen or faked.
Republican presidential candidates have said in the days since the attack that it is reason to halt admittance of Syrian refugees, and Republican governors in Alabama, Michigan, Texas and Arkansas have said they will not allow Syrian refugees to resettle in their states.
But refugee organizations that handle resettlement have argued that people who are screened in this way are more thoroughly vetted than people who come to the U.S. in other manners, such as crossing a border or coming on a visitor or student visa.
Democratic presidential candidates who had previously called for the U.S. to admit even more Syrians than Obama promised said during a primary debate on Saturday that they still support allowing refugees to resettle in the U.S. They, too, said security checks were important.
"I do not want us to in any way, inadvertently allow people who wish us harm to come into our country," former Secretary of State Hillary Clinton said.
Obama deputy national security adviser Ben Rhodes said Sunday that the White House remained committed to accepting 10,000 Syrian refugees.
Popular in the Community