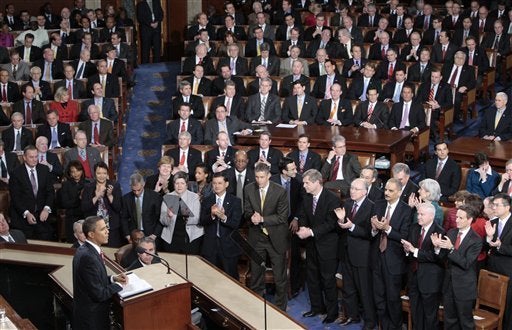 President Barack Obama started his State of the Union address Wednesday night by going after the low-hanging political fruit: declaring the bailout of the banks to be as popular as a root canal, urging a tax on Wall Street institutions, and touting the tax breaks his administration provided to working families.
For this effort he got applause from just one half of the bicameral gathering of Congress.
The Republican lawmakers in attendance sat on their hands while the president discussed policy provisions that, ostensibly, are very much in their philosophical wheelhouse. When Republicans didn't even applaud on behalf of his tax cuts, Obama pointed to the GOP side of the chamber and expressed surprise: "I thought I'd get some applause on that one," he said.
So, apparently, did others. A Democratic strategist quite pleased with the chilly Republican reception emailed the Huffington Post the following: "Footage of every Republican sitting when Obama talked about bank tax is going straight into every 2010 ad."
<0--1964--hh>0--1964--hh>
HERE IS THE RELEVANT PORTION OF OBAMA'S SPEECH:
Our most urgent task upon taking office was to shore up the same banks that helped cause this crisis. It was not easy to do. And if there's one thing that has unified Democrats and Republicans, it's that we all hated the bank bailout. I hated it. You hated it. It was about as popular as a root canal.

But when I ran for President, I promised I wouldn't just do what was popular -- I would do what was necessary. And if we had allowed the meltdown of the financial system, unemployment might be double what it is today. More businesses would certainly have closed. More homes would have surely been lost.

So I supported the last administration's efforts to create the financial rescue program. And when we took the program over, we made it more transparent and accountable. As a result, the markets are now stabilized, and we have recovered most of the money we spent on the banks.

To recover the rest, I have proposed a fee on the biggest banks. I know Wall Street isn't keen on this idea, but if these firms can afford to hand out big bonuses again, they can afford a modest fee to pay back the taxpayers who rescued them in their time of need.

As we stabilized the financial system, we also took steps to get our economy growing again, save as many jobs as possible, and help Americans who had become unemployed.
That's why we extended or increased unemployment benefits for more than 18 million Americans; made health insurance 65% cheaper for families who get their coverage through COBRA; and passed 25 different tax cuts.

Let me repeat: we cut taxes. We cut taxes for 95% of working families. We cut taxes for small businesses. We cut taxes for first-time homebuyers. We cut taxes for parents trying to care for their children. We cut taxes for 8 million Americans paying for college. As a result, millions of Americans had more to spend on gas, and food, and other necessities, all of which helped businesses keep more workers. And we haven't raised income taxes by a single dime on a single person. Not a single dime.

Calling all HuffPost superfans!
Sign up for membership to become a founding member and help shape HuffPost's next chapter