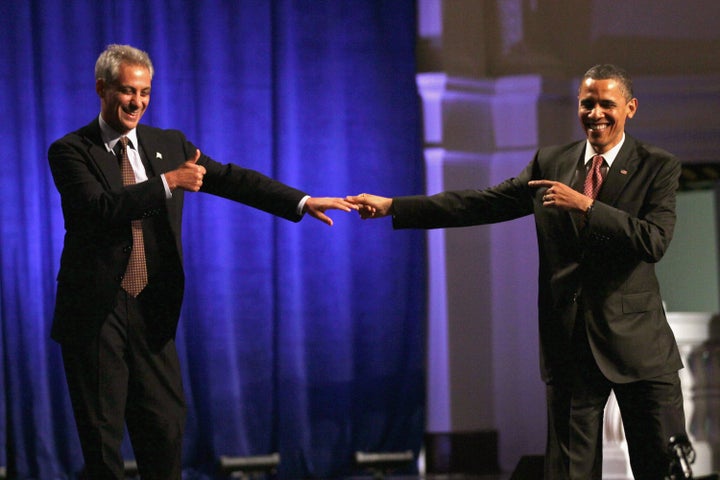 First, the president spoke at N9NE Steakhouse, where about 150 donors paid $5,000 and $10,000 a plate. Mayor Richard M. Daley and Mayor-elect Rahm Emanuel also attended the event.
"Yes, he is foul-mouthed. Yes, that finger thing is a little creepy. But I love him anyway," Obama said of Emanuel, according to NBC Chicago. "And Chicago, you did the right thing by electing him the next mayor of Chicago."
After N9NE, Obama headed to MK where donor shelled out a whopping a $35,800-per-person to dine with the president. (Check out the impressive menu here.)
A crowd of more than 2,300 assembled at Chicago's Navy Pier Thursday night, where Obama was joined by Rahm Emanuel, Mayor Daley, Derrick Rose, Ernie Banks, B.J. Armstrong, Colbie Caillat, Joakim Noah and many others. He talked about the Bulls, his trouble finding parking at Navy Pier in the past, and of course, the future. The president, however, scrapped his "winning the future" mantra for the one that echoed in Grant Park during his 2008 victory speech: "Yes we can."
"Whenever you hear people say our problems are too big to solve, or we can't bring about the changes we seek, I want you to think about all the progress we've made," he said. (Scroll down for video) "I want you to think about all the unfinished business that lies ahead. I want you to be excited about the future that lies before us. And I want you to remind you, and I want you to remind everybody else of those simple words that summed up what we believe as a people: Yes We Can."
After describing his deep roots in the city, Obama joked about the "birther" issue that won't seem to go away.
"I wasn't born here," he said. Then the president paused and chuckled as the crowd at Navy Pier broke into knowing laughter. "Just want to be clear - I was born in Hawaii."
As members of the crowd shouted compliments to the president, he made several references to the love and support he has received from Chicagoans, and spoke about his decision to base his 2012 campaign here.
"Now, this is the first time in modern history that a sitting President has based their reelection campaign outside of Washington," he said. "But I decided I don't want our campaign to be just hearing all the pundits and the powerbrokers. I want our campaign to be here because you guys are the ones who got me started. I see people in this audience who supported me when nobody could pronounce my name. I see folks who supported me when I ran for Congress and got a beatdown -- and then helped to nurse me back to health."
Obama reportedly returned to his Hyde Park home about 10:20 p.m., and is expected to depart from O'Hare Airport back to Washington just before noon. His visit raised an estimated $2 million for his reelection campaign, according to the Chicago Sun-Times.
WATCH the president's Navy Pier remarks here (and read the full transcript here):
Calling all HuffPost superfans!
Sign up for membership to become a founding member and help shape HuffPost's next chapter