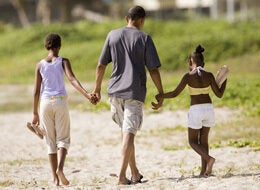 Obama will appear on the cover of the Men's Health November issue, which hits newsstands October 21st. In the interview he opened up about fatherhood, the sacrifices he's had to make, and how he's kept his kids normal. Read some excerpts below.
On Being a Father and Presidential Candidate:
"The pledge is, they'll get their dog, win or lose."
"Their main concern was, 'When are we going to get a dog?' They did ask about what they called 'secret people,' which were the Secret Service folks. 'Are we going to have to have these people with sunglasses and earpieces following us around all the time?' And I told them, well, not right away. They've adjusted wonderfully. And I've tried to make sure that they haven't had to participate too much in the political process."
"What I've been able to do is create a zone of normalcy for my kids. I have been able to transmit to them my absolute interest in them and my absolute love for them."
"I don't miss the important things. I haven't missed a dance recital. I haven't missed a parent-teacher conference. But there are some things I do miss, and those are some of the tradeoffs you make."
"But, look, there's no question there are sacrifices involved here. I'd like to say that quality time replaces quantity, but sometimes it doesn't. You know, a lot of the best moments of family life happen spontaneously. If you have less time to devote to them, there are fewer of those moments."
What Being A Father Means To Him:
"I would like to think that most of the issues related to my father have been resolved." "That's part of what writing Dreams from My Father was about: understanding him, his own personal tragedy. He wasn't a presence in my life, he was an idea that I had to wrestle with for a long time."
"Somebody once said that every man is either trying to live up to his dad's expectations or make up for his dad's mistakes. And I'm sure I was doing a little bit of both. But I feel that somewhere in my late 20s or early 30s I sort of figured out what his absence had meant. It is part of what I think has made me a pretty good dad. I don't think it would have too much of an impact on my decision-making as president. There's no doubt that it has contributed to my drive. I might not be here had it not been for that absent father prodding me early in life."