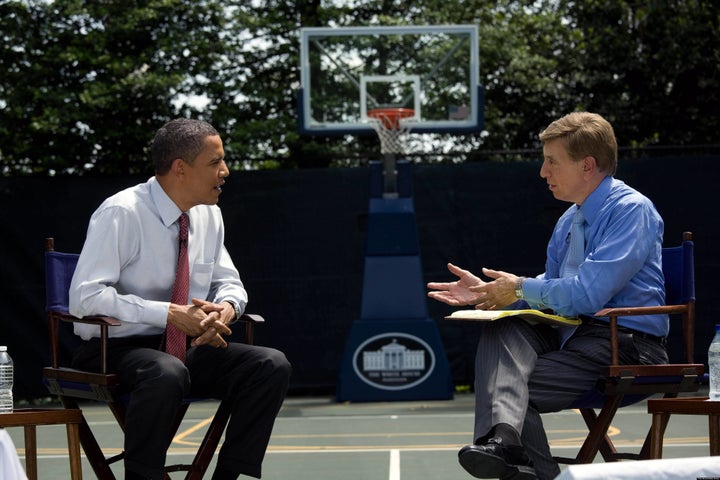 AP/Huffington Post -- If LeBron James isn't sure he can win in Cleveland, President Barack Obama thinks there's an opportunity in his hometown of Chicago.
Obama tells TNT that the Bulls have a "pretty good core" and "you could see LeBron fitting in pretty well there."
Obama was interviewed about a number of basketball subjects, including the Phoenix Suns stand against the immigration law in Arizona, by broadcaster Marv Albert on the White House basketball court. The interview will be shown Tuesday night beginning at 8 p.m. EDT.
James can become a free agent this summer. Obama says he should stay in Cleveland if he believes in the Cavaliers' structure, otherwise he should look elsewhere:
I think that the most important thing for LeBron right now is actually to find a structure where he's got a coach that he respects and is working hard with teammates who care about him and if that's in Cleveland, then he should stay in Cleveland. If he doesn't feel like he can get it there, then someplace else.

The one thing I remember about the Bulls was it wasn't until Michael [Jordan] had confidence in Phil Jackson, Scottie Pippen, Horace Grant, it wasn't until you got that framework around you that you could be a champion. Same thing happened with Kobe [Bryant]. You know, I think that, first with Shaq [O'Neal] then later with [Pau] Gasol, you know, he's gotten that sense of a team around him and I think LeBron hasn't quite been able to get that yet. That's what he needs to find.

You know, like I said, I don't want to meddle. I will say this, [Derrick] Rose, Joakim Noah...it's a pretty good core. You know, you could see LeBron fitting in pretty well there.
Calling all HuffPost superfans!
Sign up for membership to become a founding member and help shape HuffPost's next chapter