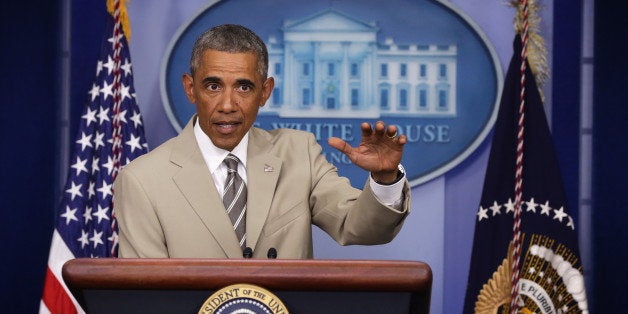 President Barack Obama donned a tan-colored suit on Thursday for a news conference in the White House Press Briefing Room. Though his speech was of a more serious nature, the suit turned the Internet into a horde of wannabe fashion critics, with people mocking the president for his "sad," "terrible," and "wack-ass" outfit choice. One Republican congressman actually got upset about it.
"There's no way any of us can excuse what the president did yesterday," Rep. Peter King (R-N.Y.) said on NewsMaxTV.
Well, not everyone agrees. Retailers don't sell a ton of tan suits, but fashion leaders say they're a summer staple and totally acceptable.
Joseph Abboud, fashion designer and chief creative director of Men's Wearhouse, praised Obama's decision to wear a tan suit in an interview with The Huffington Post on Friday. Wearing a tan suit in August is hardly a fashion faux-pas, he said, and it has been a seasonal part of men's business dress code for around 75 years. Businessmen on New York City's Madison Avenue have long worn the tan or khaki suit as a summer uniform, he noted.
"I applaud him for wearing a tan suit," said Abboud, who previously made clothes for Obama as head of suit-maker Hart Schaffner Marx. "You don't want to look the same every day of your life. It's boring as hell."
Retailers said there is some demand for tan suits, but the color doesn't make up a big chunk of their sales. However, tan suits may be increasing in popularity as more men embrace fashion and expand their wardrobes into more daring styles.
Kevin Harter, vice president of men's fashion direction for Bloomingdale's, said men are reaching out more than ever before to new colors and patterns in their wardrobes. As a result, he said, more tan suits are popping up at summer weddings.
"The tan suit business is a summer business," said Harter. "If you do tan right, you do it in a great cotton suit that fits you well and gives that summer feeling."
Despite their support for the look, retailers said their top sellers are more traditional colors than tan.
Navy, black and gray are the most popular suit colors at Bloomingdale's, Harter said. Tony Finocchiaro, senior vice president of tailored clothing at Men's Wearhouse, said their most popular sellers are charcoal, black and gray. Viranlly Liemena, an assistant merchant at Indochino, told HuffPost that gray is its most popular seller, followed by blue, since they're versatile colors that appeal to first-time suit buyers.
Finocchiaro said tan suits are "not a major portion" of Men's Wearhouse's business. They tend to sell better in certain areas of the country like the Southeast, which could be weather-related, he said.
Even at a pricey purveyor of high fashion like Bloomingdale's, which sometimes sells bold fashion suits in colors like hunter green for those trying to make a statement, tan suits only make up a "very small" piece of the business, according to Harter.
At Indochino, variations of tan suits do drive a portion of sales, though not enough to make a "big impact," Liemena said. The company always sees sales of the suits spike as the weather gets warmer, and the tan suits are usually made with lighter fabric, he noted.
"It will always remain a good summer seller," Liemena said.
Popular in the Community