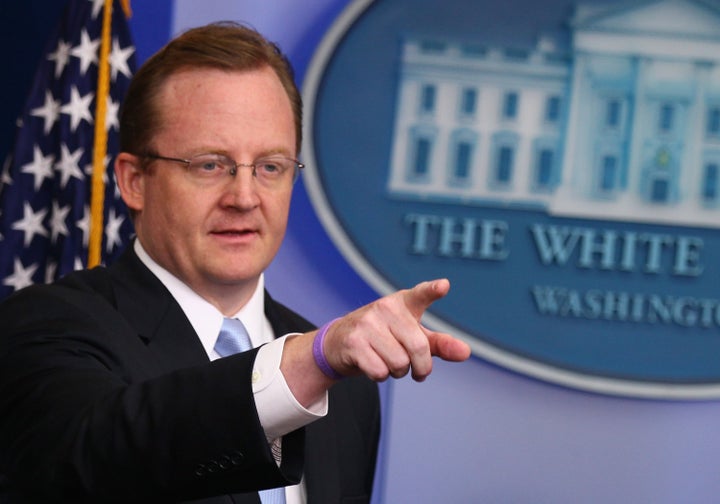 UPDATE: President Barack Obama announced "a framework for a bipartisan agreement" Monday night over the impending expiration of the Bush tax cuts.
Addressing the press after having discussed the arrangement with congressional Democratic leadership, Obama said he was unwilling to let "working families" become "collateral damage for political warfare here in Washington." He also stressed that his preference remained to let the rates for the wealthy expire. But Republicans wouldn't budge from their perch, he added. And securing a 13-month extension of unemployment benefits and other administration-favored tax credits in exchange for a two-year extension of all rates was, Obama stressed, a decent deal to make.
"I'm not willing to let our economy slip backwards just as we're pulling ourselves out of this devastating recession," said Obama. "I'm not willing to see two million Americans, who stand to lose their unemployment insurance at the end of this month, be put in a situation where they might lose their home, or their car, or suffer some additional economic catastrophe. So, sympathetic as I am with those who prefer a fight over compromise, as much as the political wisdom may dictate fighting over solving problems, it would be the wrong thing to do."
Shortly after Obama announced the formal arrangement, incoming House Speaker John Boehner (R-Ohio) and Senate Minority Leader Mitch McConnell (R-Ky.) both offered their support.
"It's encouraging that the White House is now willing to stop all of the job-killing tax hikes scheduled for January 1," said Boehner spokesman Michael Steel. "We look forward to discussing this proposal with House Republican Members and the American people."
"I appreciate the determined efforts of the President and VP in working with Republicans on a bipartisan plan to prevent a tax hike," said McConnell.
In a conference call with reporters shortly after Obama's formal announcement, a senior administration official said the compromise "does not worsen the medium- and long-term deficit," although that does not square with the White House's earlier positions on a sweeping extension of the tax cuts, which Obama referred to no fewer than 50 times as "for millionaires and billionaires."
During his weekly radio address on Sept. 25, Obama referred to a full extension as "tax breaks we cannot afford." A few days later, he said "98 percent of Americans wouldn't see any benefit from it."
For more details on the deal, see The Huffington Post's earlier reporting below...
WASHINGTON -- The Obama administration and Congressional Republicans were close to finalizing a deal on the expiring Bush tax cuts late Monday afternoon. But a senior administration official cautioned that, as of 4:30 p.m., they remained "a phone call away" -- a conversation between the president and GOP leadership.
That said, the contours of a final package emerged with more detail than ever before. While it's clear that the White House gave in on its main front -- the desire to let the tax levels for the upper-income levels revert to pre-Bush rates -- administration officials claimed that they were able to secure major victories in return.
In exchange for allowing those rates to continue for two years, Republicans agreed to extend unemployment insurance for an additional 13 months, to offer a two-percent employee side payroll tax credit (at a cost of about $120 billion), and $40 billion in tax breaks for families and students (including a $1,000 child tax credit extended for two years and an expansion of the earned income tax credit)
The final deal would allow businesses to write off 100 percent of purchases of outdated equipment -- another key element of Obama's fiscal plans. There also would be a compromise on the estate tax, which will be set for two years at 35 percent, with a $5 million exemption amount, according to the Daily Caller, which first reported the arrangement.
Briefing The Huffington Post about the deal, which could be announced as early as Monday night, the two senior administration officials claimed that they were able to get more bang for their buck than previously imagined. The costs for the payroll tax holidays, UI and other refundable credits come in at roughly $215 billion over two years. The extensions of the income tax rates strictly for the wealthy is estimated to cost about $95 billion. All of it is unpaid for. But the former provisions are more stimulative than the latter.
The question remains, however, whether those provisions will be enough to placate Democrats. Earlier in the day, the president convened a meeting with Congressional Democratic leadership to lay out the forthcoming arrangement. And in speaking to The Huffington Post, Obama's aides seemed hopeful.
"[W]e look at this from the sense of the economy and I think that this is a very good deal for a fragile economic recovery, moving that fragile economic recovery to a sustained job producing economic recovery," the senior administration official said. "First and foremost, that's what animated this whole thing. I think that being able to keep the refundability of the recovery act, the tax credits for working families, for college, and for children is a big victory. Ensuring 99 weeks of unemployment [insurance] is important for those who were looking at a Christmas with their benefits disappearing."
The deal also sets up a re-litigation of the tax cut fight during the height of the 2012 presidential debate. Then, as now, the income rates will be set to revert for everyone to pre-Bush levels, and the Federal Reserve projects that unemployment at the end of 2012 will still be 8 percent.
Nevertheless, the White House seemed willing to muster up a campaign to let the rates for the wealthy expire in two years.
"We are in a tough economic time, so the argument is a tougher one to make," said the senior administration official. "This will help jolt the economy and 2012 will be about whether or not we can afford to borrow more money from china for tax breaks for the rich. That's what 2012 will be about and that's an argument we will be happy to make."
The administration, of course, will face a serious trust deficit on tax cut matters in the future, owing to the capitulation that just took place. Over the past three months, Obama described the Bush-era program as "tax cuts for millionaires and billionaires" no fewer than 50 times, according to a review of his stump speeches, weekly addresses, and comments to campaign donors and members of the news media.
The rhetoric was deliberate: Obama was trying to cast Republicans as the party of the wealthy while his fellow Democrats represented the middle class. But in addition to the political contrast, he also described the tax cuts as bad policy, both unaffordable and ineffective.
During an event the White House billed as a "backyard discussion" at the home of an Albuquerque, New Mexico, family, Obama said the nation would "have to borrow the $700 billion" -- the estimated cost of the cuts over 10 years -- "from China or the Saudis or whoever is buying our debt, and then we'd pass off on average $100,000 check to people who are making a million dollars up to more than a billion dollars."
On Monday night, Obama seemed to recognize that he was doing the thing he had admonished. "I have no doubt that everyone will find something in this compromise that they don't like, in fact, there are things in here that I don't like," the president said.
With additional reporting from Shahien Nasiripour
Popular in the Community