 "Now, despite the evidence, the entire centerpiece of my opponent's economic plan is a new, $5 trillion tax cut on top of the Bush tax cuts," Obama said to boos at a campaign stop in Mansfield, Ohio. "Now, the bulk of this tax cut would go to the very top. A lot of it would go to the wealthiest 1 percent of all households. Folks making more than $3 million a year -- the top one-tenth of one percent -- would get a tax cut worth almost a quarter of a million dollars. Now, think about that. Folks making $3 million a year or more would get a quarter-of-a-million-dollar tax cut."
"But it gets worse. Under my opponent's plan, guess who gets the bill for these $250,000 tax cuts? You do. And you don't have to take my word for it," he said. "Just today, an independent, non-partisan organization ran all the numbers. And they found that if Governor Romney wants to keep his word and pay for his plan, he'd have to cut tax breaks that middle-class families depend on to pay for your home, or your health care, or send your kids to college. That means the average middle-class family with children would be hit with a tax increase of more than $2,000."
"And here's the thing," he continued. "He's not asking you to contribute more to pay down the deficit. He's not asking you to pay more to invest in our children's education or rebuild our roads or put more folks back to work. He's asking you to pay more so that people like him can get a big tax cut."
"In order to afford just one $250,000 tax cut for somebody like Mr. Romney, 125 families like yours would have to pay another $2,000 in taxes every year. Does that seem like a good plan for economic growth? Does that sound like a plan you can afford? How many of you want to pay another $2,000 to give Mr. Romney or me another tax break?"
UPDATE: 1:15 p.m. -- "President Obama continues to tout liberal studies calling for more tax hikes and more government spending," Romney campaign spokesman Ryan Williams said in response to the Tax Policy Center report.
This story has been updated to reflect Obama's speech in Ohio.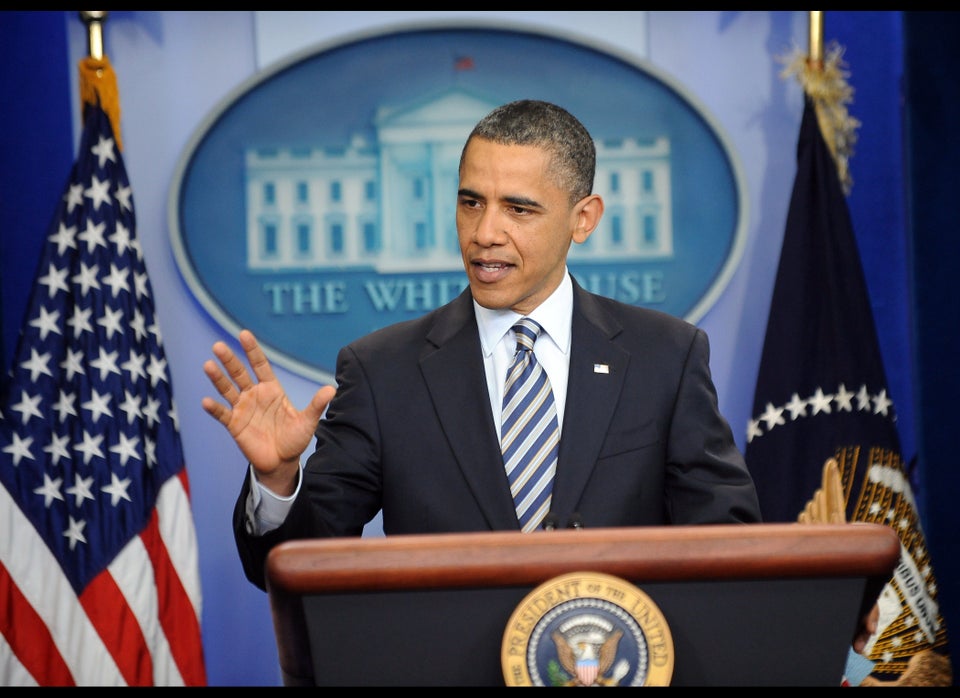 Barack Obama's Greatest Hits
Popular in the Community