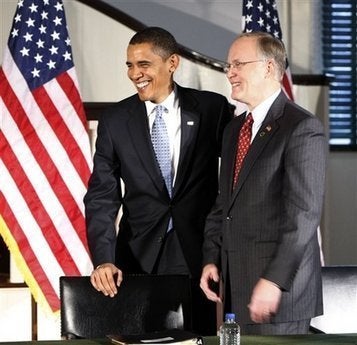 An aide to Barack Obama reaffirmed the President-elect's support for the labor movement's chief legislative priority in a one-word statement issued to the Huffington Post on late Tuesday.
Asked if Obama's support for the Employee Free Choice Act remained as strong as his public proclamations suggested on the campaign trail, transition spokesman Dan Pfeiffer responded, succinctly, "Yes."
The reaffirmation may not seem like a political breakthrough on its surface. But in the current political climate, in which the Obama team has steadfastly refused to comment on various legislative priorities, it does signal that the President-elect is not shying away from progressive pledges made during his campaign.
Moreover, it clears the air of some confusion that was prompted by a statement from Rahm Emanuel in late November. Appearing at a Wall Street Journal CEO Council conference, the incoming White House chief of staff spoke opaquely about the so-called "card check" bill, leaving the impression to some that it would not be a priority.
"Let me take your question and go somewhere else," he said of the measure, which would allow workers to form unions more easily by simply signing cards rather than engaging in a ballot process.
Some were concerned by Emanuel's remarks, taking them as a signal that Obama would push back aspects of the pro-labor agenda in order to tackle other pressing economic matters. Press reports enforced the theory that Emanuel had "declined to say whether the White House would support the legislation."
In private, however, Obama allies insisted that the Emanuel's statement was not a dodge but rather a joke, meant to lighten the mood and change the subject in front of an audience of business leaders hostile to the legislation. Pfeiffer's remark -- even in its brevity -- should go a bit further in assuaging concerns over Obama's pro-labor commitments.
Update: Pachacutec of FireDogLake wrote yesterday about his unsuccessful attempts to get this very question answered by the Obama transition team. He's got much more on the matter here.
Popular in the Community