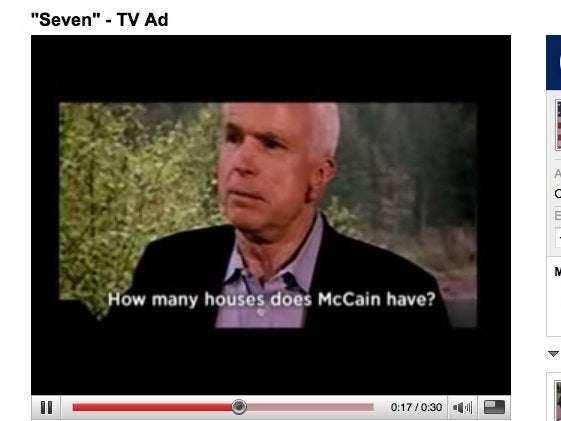 Barack Obama lashed into John McCain during a campaign stop in Virginia on Thursday, ridiculing the presumptive Republican nominee for being painfully out of touch on the economy and not even knowing how many houses he owns.
"Yesterday, [John McCain] was asked again what do you think about the economy, he said I think the economy is fundamentally strong," said Obama. "Now this puzzled me. I was confused what he meant. But then there was another interview where somebody asked John McCain how many houses do you have and he said 'I'm not sure. I'll have to check with my staff.' True quote. 'I'm not sure ill have to check with my staff.' So they asked his staff and they said, 'at least four.' At least four. Now think about that. I guess if you think that being rich means you make $5 million and if you don't know how many houses you have then it is not surprising that you think the economy is fundamentally strong. But if you are like me and you've got one house, or if you are like the millions of people struggling now to keep up with your mortgage payments, you might have a different perspective. By the way the answer is John McCain has seven homes."
Obama's remarks come just hours after McCain admitted, during an interview with Politico, that he wasn't sure of the extent of properties he owned. Democrats have, for the majority of Thursday morning, been champing at the bit, viewing the admission as a golden opportunity to paint the Arizona Senator as a rich elitist. And Obama certainly took the cue.
"There is just a fundamental gap of understanding between John McCain's world and what people are going through every single day here in America and you don't have to be a Nobel Prize laureate economist," he summarized. "You just have to have a little bit of sense to understand that we cannot go through the same eight years of the failed economic policies that George Bush has put in place."
The McCain campaign clearly sees an area of vulnerability, throwing a kitchen sink of personal attacks at Obama to counteract his charge.
"Does a guy who made more than $4 million last year, just got back from vacation on a private beach in Hawaii and bought his own million-dollar mansion with the help of a convicted felon really want to get into a debate about houses?" wrote spokesman Brian Rogers. "Does a guy who worries about the price of arugula and thinks regular people "cling" to guns and religion in the face of economic hardship really want to have a debate about who's in touch with regular Americans?"
The elbows, indeed, have been sharpened. And the Obama camp smells blood. As the candidate was speaking, his campaign put out a scathing new ad on the McCain-house gaffe that aides said would go on national cable:
"It's seven," the spot says of the number of homes McCain owns. "Seven houses. And here's one house America can't afford to let John McCain move into." The screen pans to the White House.
During Thursday's speech, which was preceded by an introduction from Virginia governor and possible VP candidate Tim Kaine, Obama hammered home the economic populist theme even further. Again playing off a McCain gaffe, he chastised his opponent both for the policies he pursued and company he kept.
"Some of you saw the Saddleback Forum where [John McCain] was asked what was rich and he said 'I don't know maybe if you make $5 million, $5 million then you are rich,' which I guess means if you are only making $3 million a year you are middle class," said Obama. "I guess that's what he meant. His top economic adviser said the other day that Americans should stop complaining, that they've become a nation of whiners, that all these economic policies we are talking about is a mental recession. That if you just changed your mind you would be ok...."
UPDATE: Obama is really going all in on this issue. The campaign emails that it will be sending supporters to "battleground states across the country" to host events in front of houses to illustrate "how out of touch Senator McCain is." Among the big events being scheduled include:
DES MOINES, IA: Kansas Governor, Kathleen Sebelius campaigns in Des Moines this afternoon where she will discuss McCain losing track of how many homes he owns

OH: Tennessee Governor Phil Bredesen will talk about McCain losing track of how many homes he owns at events throughout southeast Ohio
In addition, some of the Obama state organizations are launching "a statewide search to find [voters] who, like John McCain, have so many homes that they just can't keep track of the number." Should be fun, or funny. This will be taking place in Pennsylvania, Florida, and North Carolina, among other states.
Popular in the Community