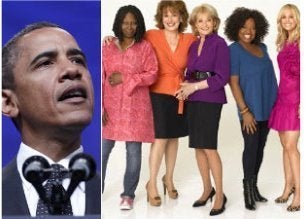 NEW YORK (AP)-- President Barack Obama said Thursday that the racial firestorm that led to the ouster of a black Agriculture Department official was a "phony controversy" generated by the media. He said his administration overreacted by forcing her out.
In an interview on ABC's daytime talk show "The View," Obama said the forced resignation of Shirley Sherrod shows racial tensions still exist in America."There are still inequalities out there. There's still discrimination out there," Obama said. "But we've made progress."
Sherrod was forced to resign after a conservative website posted an edited video of her speaking about race. Sherrod said the video took her remarks out of context. When her full remarks were discovered, Agriculture Secretary Tom Vilsack apologized and offered Sherrod a new job at the department.
Obama pinned much of the blame for the incident on a media culture that he said seeks out conflict and doesn't always get the facts right. But he added, "A lot of people overreacted, including people in my administration."
The Sherrod incident added another wrinkle to an administration already burdened by the slow pace of the economic recovery, wars in Iraq and Afghanistan, and the Gulf oil spill. While acknowledging that the country has gone through a tough stretch since he took office, Obama said he remains optimistic about the direction the U.S. is headed.
"What has been satisfying is just seeing how resilient the American people are," he said.
Obama's interview with "The View" was the first appearance on a daytime talk show by a sitting president. The wide-ranging interview also dipped into Obama's knowledge of pop culture, an area he showed some proficiency, admitting that he knows actress Lindsey Lohan is in jail.
But he skirted a question about whether actor Mel Gibson should go to anger management classes, joking that he'd rather answer a question about the war in Afghanistan. And when asked about "Snooki," a character on the MTV reality show "Jersey Shore," Obama pleaded ignorance.
But perhaps the biggest revelation was that the blackberry Obama fought so hard to keep at the start of his presidency hasn't turned out to be that much after all. Because his e-mail traffic could be subject to eventual requests for disclosure, Obama said the 10 people who have his coveted e-mail address are cautious with their messages.
"Nobody wants to send me the real juicy stuff," he said. "It's all very official."
WATCH Obama on the year's highs and lows:
WATCH Obama on his legacy:
WATCH Obama on Lindsay Lohan, Snooki and Chelsea Clinton:
WATCH Obama on why he chose to go on "The View":
Popular in the Community