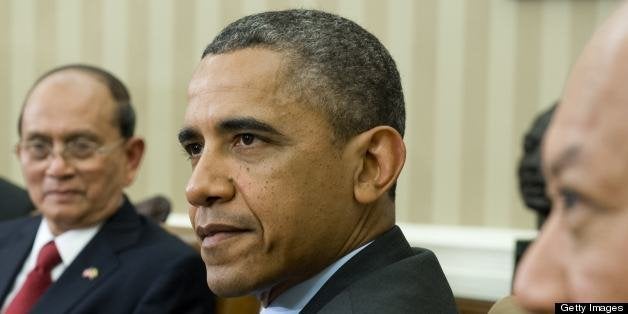 WASHINGTON -- If things work out the way President Barack Obama and his aides hope, a majority of Americans will continue to stick with him through his time of troubles.
Obama can boast of accomplishments for which many fair-minded people will want to thank him with unwavering loyalty. The list includes expanding funds for middle-class health care; nominating two women, one of them Hispanic, to the Supreme Court; hunting down and killing Osama bin Laden; giving steadfast support to abortion rights; and deepening the nation's commitment to rights for gays and lesbians.
But if voters are going to remain by his side, he and the White House will have to make that sale on their own -- and will need his Republican foes to overplay their hand. For it seems increasingly clear that Obama isn't going to get much help from longtime allies: Democrats on the Hill, progressives and the so-called mainstream press.
The changing mood inside the Beltway, apparent for weeks, has now reached a kind of tipping point.
So far on Wednesday: The New York Times excoriated the administration; a leading progressive writer compared Obama to Richard Nixon; a sober-minded network correspondent accused the White House of seeking to "criminalize journalism"; an Internal Revenue Service official invoked the Fifth Amendment at a contentious congressional hearing; and two Democratic lawmakers at that same hearing blasted the administration, warning it to cooperate or face pressure to name a special prosecutor.
And all of that happened before noon.
Critical mass arrived with the news Sunday that the administration had accused Fox News reporter James Rosen of being a "co-conspirator" in alleged violations of the 1917 Espionage Act by seeking secret information from a consultant to the State Department. Naming Rosen in that way added urgency and color of law to the Justice Department's request to impose close surveillance on him personally, on his email and on his contacts.
The Espionage Act, which broadly makes it illegal to leak government information, is a blunt instrument that has rarely been used against government officials and never -- until now -- against a reporter accused of receiving a leak.
The Rosen revelation came on top of the news about the administration's sweeping leak probe against the Associated Press and a longstanding investigation of a leak involving New York Times national security reporter David Sanger. The stories have prompted a second, and less generous, look at Obama's media management style and his devotion in practice to "transparency," due process, free speech and free press.
Masters of the friendly and controlling leak to favored outlets, Obama administration officials have an especially hard time defending the aggressiveness of their many leak investigations now.
In a stinging editorial, The New York Times accused the administration of "a heavy tilt toward secrecy and insufficient concern about a free press."
Salon writer David Sirota reviewed Obama's history of close, almost obsessive control of his own message and concluded that it was of a piece with a bleak administration record on surveillance of the press and lack of transparency. Sirota concluded that on press and free speech issues, the Obama crowd is "Nixonian."
The always cautious and evenhanded Chuck Todd of NBC accused the White House Wednesday morning of wanting to "criminalize journalism."
Meanwhile, Republicans continued to ask questions about the IRS' disproportionate focus on conservative groups seeking tax-exempt status, and key Democrats, at least for now, showed little inclination to defend the administration in any way.
It wasn't surprising that at a House Oversight and Government Reform Committee hearing, Chairman Darrell Issa (R-Calif.) and his GOP colleagues decried the IRS and the administration's handling of the issue. But Democratic members also seemed genuinely outraged, not to mention eager to distance themselves from the blast zone.
Rep. Elijah Cummings of Maryland, the panel's ranking Democrat, decried the "gross incompetence and mismanagement" of the IRS, and criticized IRS officials for what he said were past failures to inform the committee of what was really going on at the agency.
Rep. Stephen Lynch of Massachusetts issued a blunt warning. The administration needs to be more forthcoming, Lynch said, or it will "lead to a special prosecutor" and "there will be hell to pay if that is the route we go down."
And that's another Democrat talking.
REAL LIFE. REAL NEWS. REAL VOICES.
Help us tell more of the stories that matter from voices that too often remain unheard.
BEFORE YOU GO
PHOTO GALLERY
Most Iconic Photos Of Obama's First Term