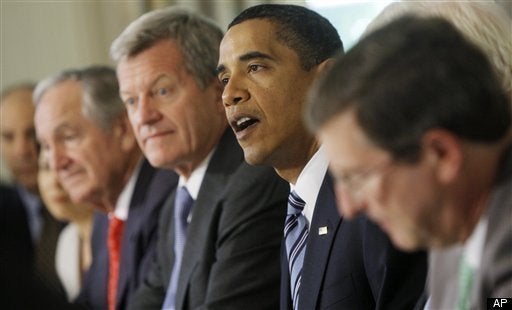 President Barack Obama will urge members in both chambers of Congress to overcome their differences and forge ahead on health care reform during his first State of the Union address this evening.
A source familiar with the speech says that the president will assume the role of soother of Democratic infighting and healer of health care reform wounds. The president will restate that his goal is the same kind of "comprehensive" reform package he outlined the last time he address Congress five months ago.
The speech comes at a time of reportedly rising tensions between Democrats in the House and Senate. With health care reform at an impasse, each chamber has pointed to the other as the one holding the key to passage. Senate leaders have been telling reporters that the House must pass their bill before lawmakers can consider amending it. House aides fire back that they don't have the votes to go down that path until the Senate first confirms it will pass additional legislation via the budget reconciliation process, which only requires a simple majority vote.
Some of the news coverage has been overwrought. House members are perpetually frustrated with the lethargic pace of the Senate. Rep. James Clyburn (D-S.C.) sardonically calls his colleagues on the other side of the Capitol building the "House of Lords." But, as one House aide put it, "I don't actually think anything is [currently] at an increased fighting level."
Senate Democrats, likewise, often view the House Democratic caucus as removed from the difficulties of legislating. Some are prone to quip about how nice it would be to have the working majority Speaker Nancy Pelosi (D-Cali.) enjoys-- not to mention the absence of the filibuster. But in this case, they are aware the Speaker's current task, mustering up the votes for a hodgepodge bill with something in it for everyone to hate, is no simple thing.
Part of the problem is that each body is looking for more direction from the White House. Congressional aides hope the president will use the State of the Union address to fill that void.
"We're going to let the President's words speak for themselves," Communications Director Dan Pfeiffer said in a statement first reported by the Plum Line's Greg Sargent. "There will be additional details that he will share tonight, and he will make it clear that his commitment to addressing this challenge in a comprehensive way is as strong today as it was when he stood in the same spot in September to address the nation on health care."

Popular in the Community