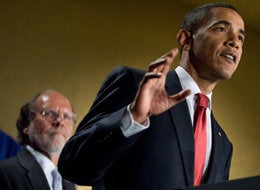 President Obama will visit New Jersey next week to campaign on behalf of Gov. Jon Corzine, the governor's office tells to the Huffington Post.
Obama will host a rally for Corzine at the Rothman Center at Fairleigh Dickinson University in Hackensack on October 21, Corzine spokesperson Elisabeth Smith confirmed. Smith would not say whether the president's stop was a one-time affair or the beginning of a more active engagement in the race.
Nevertheless, with Vice President Joseph Biden having already stumped for the Garden State governor, and with Corzine's re-election prospects improving with each poll, it seems likely that Obama will play an increasingly active role as Election Day nears.
The decision to campaign on Corzine's behalf reflects a heightened activism from the president and his political team in the two major off-year elections. On Tuesday, the president's political arm - Organizing for America -- put out robocalls for Democratic candidate Creigh Deeds in Virginia.
A presidential visit, of course, is more powerful than automated calls. And the White House suggested, during Tuesday's briefing with reporters, that the president had made time on his schedule to drop by Virginia as well.
"I don't have a schedule that goes that far out, or I haven't seen it," said Press Secretary Robert Gibbs. "Obviously I think toward the end of that -- of the cycle, we have some days blocked off for stops. But I don't have those stops with me."
In the end, New Jersey may be more favorable ground for the White House. Corzine's chances of survival have improved dramatically as Election Day approaches. The New Jersey Democrat trails his opponent by a scant one percent in a recent Quinnipiac University poll, and the data trends suggest that he could take the lead shortly.