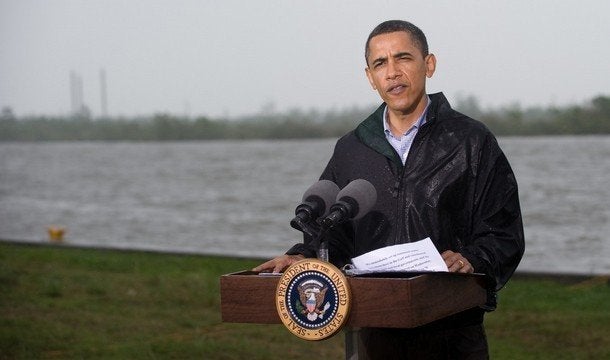 Hoping to make progress on the issue of retroactive liability for the oil spill, The White House is set to demand that executives at BP set up an account from which they will pay out claims to those affected by the spill.
A White House official emails the following information about the process:
The biggest focus in our upcoming meeting with BP will be setting up an BP-funded escrow account for a third-party administered claims process

The President will make clear that he expects, and that if necessary I will exercise his full legal authority to ensure, that BP sets aside the funds required to pay individuals and businesses damaged by this massive spill. And that those funds will be paid out under fair, efficient, and transparent procedures administered by an independent third-party panel established just for this purpose.
This is, if nothing else, a step in a more aggressive direction from the administration. Already the White House has come out in favor of unlimited liability for economic damages caused by an oil spill. There were questions as to whether that policy could be applied retroactively to BP, with Senator Byron Dorgan (D-N.D.) -- who had a meeting with the president this past week -- urging the White House to force BP to sign a legally binding agreement to pay all legitimate claims.
The escrow account would essentially skip the ex post facto debate -- though, to be sure, the oil company would still have to agree to pay into the fund and there is no sense yet what they would pay (if they pay at all).
In addition, the administration announced on Sunday that the president would give a primetime address on Tuesday evening about his upcoming trip to the Gulf. The president, according to Fox News, is bringing top White House speechwriter Jon Favreau on the trip as a means of getting on-the-ground, eyewitness material into the text.

Calling all HuffPost superfans!
Sign up for membership to become a founding member and help shape HuffPost's next chapter