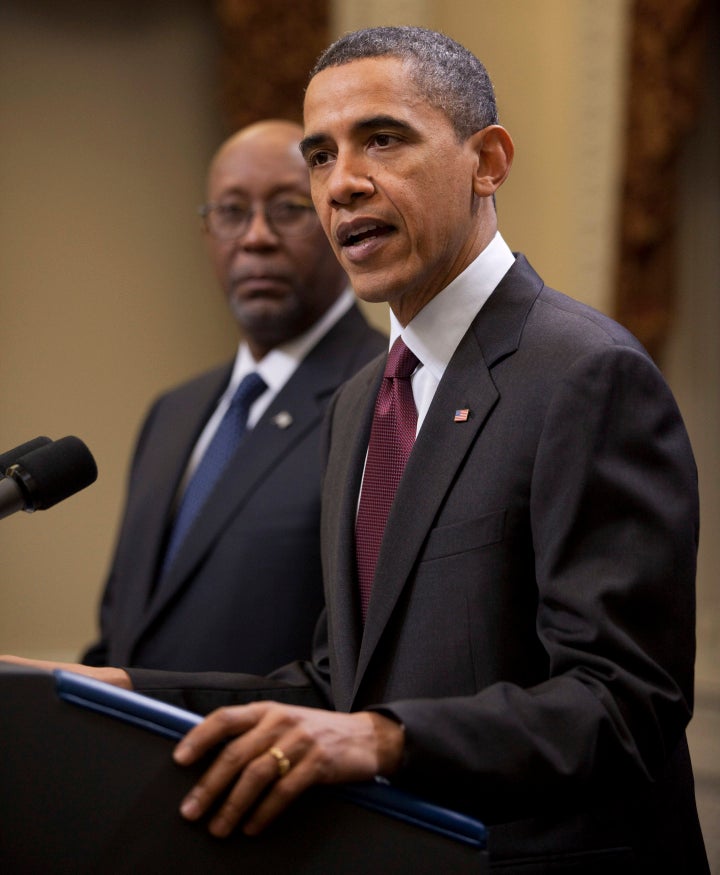 WASHINGTON -- President Barack Obama is drawing a line in the sand with Republicans over pending trade deals, one of few areas with the potential for bipartisan action on Capitol Hill.
Senior administration officials said Monday that the White House will not act on any of the pending trade pacts with Colombia, Panama and South Korea -- all of which are holdovers from former President George W. Bush's administration -- until Republicans sign off on legislation that would help to re-employ American workers hurt by jobs going overseas.
"We are making it clear today that the administration will not submit legislation for the three pending [free trade agreements] until we have an agreement with Congress" about providing assistance and job training to U.S. workers, National Economic Council chairman Gene Sperling said on a conference call.
"We are hopeful and optimistic that we can work out such a bipartisan agreement," Sperling said. "It's important that that agreement be locked in" before taking action on the pacts, he added. Sperling declined to say whether administration officials are prepared to walk away from the trade pacts altogether if a deal on assistance is not forthcoming. "We just don't expect it to come to that," he said.
U.S. Trade Representative Ron Kirk, also on the call, said the administration is pushing to move on all three agreements at the same time. But it's up to Congress to decide how soon that can happen.
"As soon as we can get agreement on a Trade Adjustment Assistance program, then we can make a determination on the timing for submitting the three free trade agreements," Kirk said.
Democratic lawmakers in manufacturing districts have pushed back hard against the trade agreements, saying they will decimate their economies, and have instead called for revamping U.S. trade policy altogether. Obama, however, has regularly advocated for passing the agreements as a boon to the U.S. economy. Monday marks the first time the administration has tied conditions to their passage.
The White House's move appeared to catch Republicans off guard.
Don Stewart, an aide to Senate Minority Leader Mitch McConnell (R-Ky.), said he heard about the news from a reporter and was awaiting comment from McConnell. In the meantime, he noted that 44 Senate Republicans sent a letter to Senate Majority Leader Harry Reid (D-Nev.) in March indicating they were willing to play hardball in order to push through the Panama and Colombia trade agreements.
"Until the president submits both agreements to Congress for approval and commits to signing implementing legislation into law, we will use all the tools at our disposal to force action, including withholding support for any nominee for Commerce Secretary and any trade-related nominees," the letter reads.
McConnell later put out a statement in response to the "surprising last-minute demand from the White House" relating to the trade deals.
The three trade agreements "have been held up by the administration for years and I was encouraged at the recent movement in the White House to act," McConnell said. "So it was more than surprising that the president's staff would again threaten to delay their implementation—particularly when the president himself agrees with us that these agreements will create jobs here in America."
A spokesman for House Speaker John Boehner (R-Ohio) put the onus back on Obama in terms of how quickly the agreements could take effect.
"We hope the White House will soon transmit the three pending bills to expand American export markets and create 250,000 new American jobs," said Boehner spokesman Brendan Buck. "If the president acts quickly, the House would be prepared to pass all three before July 4."
Sperling pushed back on the idea that Republicans should be using fighting words.
"We see no reason, at a time of 9 percent unemployment, that basic bipartisan support for both open trade together with strong workers' re-employment assistance should be changed or broken at this critical time," he said.
Rep. Mike Michaud (D-Maine), who chairs the House Trade Working Group, which opposes the three trade deals, applauded the administration's move as a step in the right direction for reforming U.S. trade policy.
"I appreciate the White House's support for this," Michaud said in a statement. "But the best assistance that we could offer to workers dislocated by trade is a new trade model that doesn't send their jobs overseas in the first place."
Popular in the Community