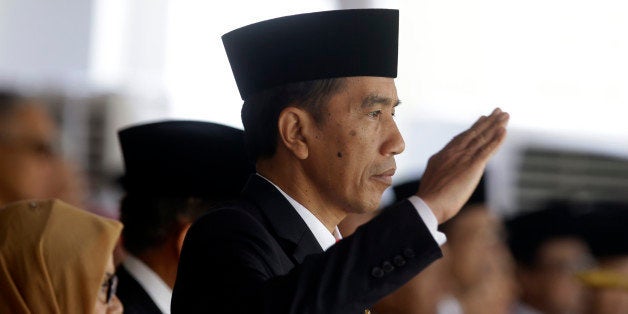 When Indonesian President Joko Widodo visits Washington this week, President Obama will be playing host to a world leader whose government is seemingly doing everything it can to launch itself as quickly as possible into the top ranks of climate polluters.
Much of the country that Widodo, known as Jokowi, leaves behind has been suffocating under a blanket of intense, toxic haze for two months. The source of the haze is fires set intentionally across the islands of Sumatra and Borneo to clear forests and ultra carbon rich peatlands for palm oil, paper, and other plantations.
The fires are so extensive that they are generating more greenhouse gas emissions than the entire US economy - all of our power plants, cars, trucks, airplanes, and industry combined. It is a disaster on a global scale.
As bad as it is for the planet, it's worse if you have to breathe it every day. The haze has turned the air orange for weeks on end. Just sitting in it for a couple of hours makes even the most vigorous adult woozy. There are reports from across Indonesia of infants dying as a result of breathing the poisonous air day in, day out.
The country's neighbors are gasping too. Malaysia has closed 7000 schools as a result of the haze, affecting four million schoolchildren. Singaporeans routinely wear high-tech facemasks, even indoors.
Jokowi himself has shown deep concern over the crisis. He's visited the epicenters of the blazes, breathing the smoke alongside his countrymen. He's ordered thousands of soldiers into double-duty as firefighters. He traveled to Sumatra with environmental activists to personally dam a canal used to drain the peatlands that are the source of much of the fires. He said he would ban new concessions on peatland. And he's pledged repeatedly to pursue companies and individuals who set fire to the full extent of the law.
But so far, those statements haven't actually reduced the burning - and there are serious questions about whether his own government is even paying attention to them. Senior members of his own administration jump at every opportunity they get to undermine his push to fight the haze.
Jokowi's own Vice President, Jusuf Kalla, recently told an audience in New York that Indonesia's neighbors shouldn't complain about their citizens' being forced to breathe toxic air.
"Look at how long they have enjoyed fresh air from our green environment and forests when there were no fires. Could be months. Are they grateful?" said Kalla about Singapore and Malaysia.
Shockingly, in the midst of the haze crisis, Jokowi's ministers are relentlessly attacking the very companies that are working to fight it. A favorite target has been the commitment by some of the largest Indonesian palm oil and paper producers not to source from deforestation. These commitments represented a remarkable change: formerly notorious forest destroyers committed to protect forests, largely in response to rising demand from customers like Kellogg and Johnson & Johnson for environmentally responsible goods. Eliminating deforestation is seen as so important to securing market access that the Indonesian Chamber of Commerce is leading the sustainability push.
So why, if business has become the champion of conservation, is there still haze?
In some measure, companies' efforts at combatting deforestation have been so successful that bad actors are starting to feel the pinch. Businesses locked into concessions on forests retain influence with Jokowi's party, and he hasn't shown the willingness or ability to challenge them.
If outlaw tycoons actually succeed in expanding their plantations, they're likely just to make Indonesia's economic malaise worse. Commodity prices are rock-bottom right now, and plantations operate barely above a break-even level. Economic growth has slowed to 4.7%, the second-slowest rate in Southeast Asia. Massive planting in the last several years, as well as bountiful harvests in other parts of the world, have put a glut of vegetable oil and paper on the world market. More planting will just depress prices further.
Meanwhile, it's going to be increasingly hard for Indonesian products to find customers. There are fewer and fewer companies that will conduct trade in commodities connected to deforestation or human rights abuse. That will hurt Indonesia's smallholder farmers the most - they're reliant on big companies' market access to get their products to market. Global customers will instead look to competitors like Brazil for sustainably-produced agricultural goods.
Instead, Indonesia should be working on implementing some of the reforms Jokowi himself has proposed - like ending concessions on peat and ensuring that no clearance of peat is allowed. Rainforest Foundation Norway has done a good summary of some of these reforms.
When a handful of rogue actors are undermining the interests of the country as a whole, that's when government leadership is required. Jokowi himself seems to have his heart in the right place, but he will need to exercise his authority as well to guide his country out of the haze and towards prosperity.
Calling all HuffPost superfans!
Sign up for membership to become a founding member and help shape HuffPost's next chapter