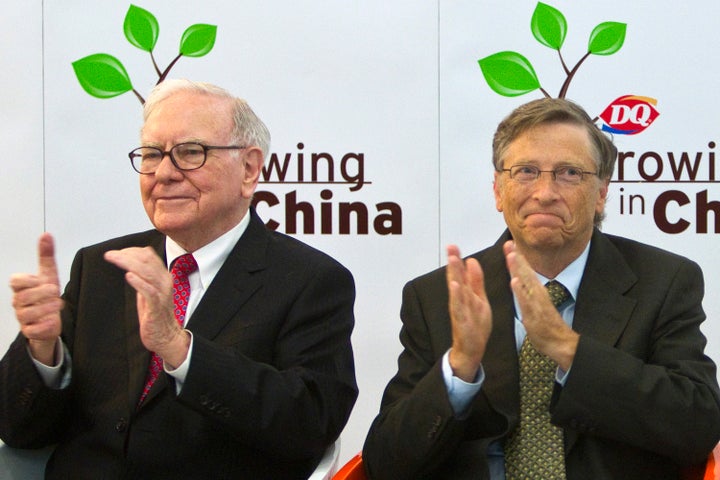 WASHINGTON -- President Obama will host the nation's two wealthiest private citizens, Warren Buffett and Bill Gates, at the White House on Monday to receive an update on the Giving Pledge, a campaign Gates and Buffett co-founded that encourages extremely rich people to leave the bulk of their fortunes to charity.
The meeting is slated to take place in the late morning and will include a number of Giving Pledge signatories, although the White House declined to specify exactly who would attend. More than 60 of America's wealthiest individuals and families have signed the pledge since it was first made public last year, including the father of 2012 Republican hopeful Jon Huntsman, Facebook founder Mark Zuckerberg, and media mogul Ted Turner.
But to political observers, Monday's meeting may mark more than just an opportunity for the president to learn about large-scale philanthropy projects. As the White House and congressional Democrats push for a debt ceiling deal that includes taxes on the wealthiest Americans, the event shines a spotlight on the very people who would bear that burden.
It's not the first time that Buffett and Gates have visited Obama to discuss the Giving Pledge, which has already amassed more than $100 billion in promised funds. In December of last year the three met at the White House, where they exchanged "ideas for growing the economy and making America more competitive," according to a White House statement.
Other Giving Pledge signatories include New York Mayor Michael Bloomberg, Microsoft co-founder Paul Allen, and film director George Lucas.
Correction: In an earlier version of this story inaccurately stated that the younger Huntsman was a signatory. The updated version correctly notes that his father was the signatory.
Popular in the Community