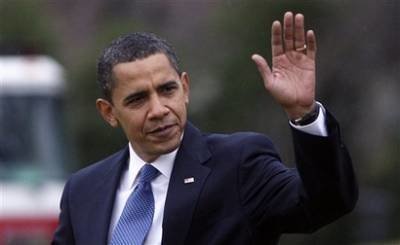 The president is scheduled to host a group of mayors from across the country at the White House on Friday in what will be a lobbying effort for federal assistance from the stimulus package.
An Obama administration official confirmed that the President and key cabinet members will meet with the local leaders tomorrow, though he said the list of attendees had not yet been confirmed. Asked if the topic of conversation would be the allocation of stimulus largesse, the officials said: "that is a fair assumption to make."
In local media accounts, some of these potential meetings have already been reported. Mayor Jerry Abramson of Louisville, Kentucky, Mayor Terry Bellamy of Asheville, North Carolina, Mayor Robert J. Duffy of Rochester, New York, Mayor Rhine McLin of Dayton, Ohio, and Mayor Michael Coleman of Columbus, Ohio are a few of the officials who will be in attendance. A group of mayors already met with the president in early February.
The meeting, which was arranged by the U.S. Conference of Mayors and the White House, is yet another reflection of how disparate the reaction to the stimulus package has been. While local officials in several traditionally-Republican states pine for money to offset impending budget cuts, their representatives in Washington can afford to proclaim their "fiscally-conservative" bonafides. It is not a coincidence, it seems, that at least one attendee -- Abramson -- is from the home state of Senate Minority Leader Mitch McConnell.
Popular in the Community