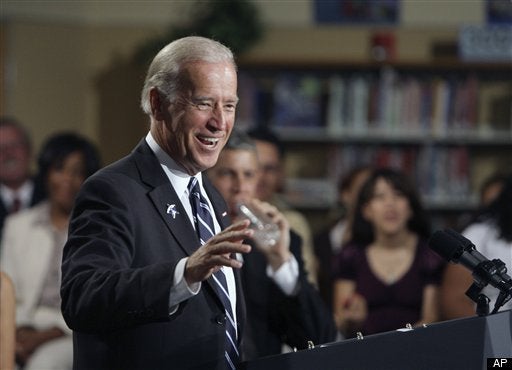 Even as the White House concedes that its options for recruiting Republican support on health care have dwindled, if not passed altogether, administration officials say they have one last weapon in an effort to curry elusive bipartisan support.
Vice President Joseph Biden has, to this point, been noticeably silent in the health care debate, his time consumed primarily with overseeing the stimulus and consulting on foreign policy matters. Now, however, the assets he brings to the debate are of increasing importance and White House aides say he will be deployed by the president in a more strategic matter -- primarily as a bridge between the administration and those recalcitrant Senate Democrats and moderate Republicans critical to reform's passage.
"He has pretty substantial relationships with most members of the Senate who didn't come in this year," said one administration official. "He knows [Senate Finance Committee Chairman Max] Baucus (D-Mont.) well, he knows [Sen. Chuck] Grassley (R-Iowa). He knows [Senate Majority Leader] Harry Reid (D-Nev.). It is going to depend on what the issues are and who he needs to talk to but there is no one who is currently playing a major role that he doesn't have a long relationship with."
Jay Carney, a chief spokesman for Biden, noted that the vice president is set to hold a roundtable discussion with health care professionals and Health and Human Secretary Kathleen Sebelius this Friday in Chicago. In addition, Carney said, the vice president has been advising Obama privately on the matter over the past few months.
"He serves the president as a confidential adviser who brings a lot of perspective and experience," Carney said. "Because of his years in the Senate and his relationships there, he is also in frequent contact with his former colleagues on the issue. I'm sure that will continue as the process moves forward in Congress."
Biden could also play an important role beyond Capitol Hill. Part of the reason he was chosen as vice president was for his appeal to elderly and white working class communities -- two major constituencies that have soured on the White House's approach to the health care debate.
He can also publicly identify with consumers of medical services. During the primary campaign he routinely would make light of the fact that he had "acquired more health care bills than anyone."
"I have consumed more of your practice than most of you will ever, ever have to do," he told a group of medical students and personnel in Des Moines, Iowa, in October 2007. "After having spent seven months in the hospital with a couple craniotomies, a few cranial aneurisms, a major embolism, watching my kids recover for a couple years I came to say, thank God y'all are deciding to be doctors we need you badly."
And yet, Biden is not expected to take the stump in an effort to drum up support for health care's passage. There is the continued concern among some that the vice president's penchant for verbal gaffes could cause problems. Mainly, however, White House officials and political observers stress that there is more bang for the buck by sticking him on his former Senate colleagues.
"I'm not sure you want him out there as a spokesman, though in front of the elderly they might," said Norm Ornstein, a fellow at the American Enterprise Institute. "His talent is suited to working with the colleagues he had for 36 years. I suspect that will be the role he's going to play."
Whether Biden can succeed on this front is another question altogether. On Wednesday, The New York Times reported that the White House was increasingly of the mindset that it needs to get health care done without Republican support. Spokesman Robert Gibbs, the day before, acknowledged that the pool of GOPers with which the craft legislation had grown quite small.
But Biden's main pitch during the campaign was that he could succeed on the bipartisan front in a way his competitors couldn't. And it was health care reform where he promised to have particular sway.
"It's about whether or not you're going to be able to, as President, generate a National consensus," he said during a presidential candidate forum in October 2007. "Because if you're a Democrat you're going to have to go out there and get 15, 20 percent of those Republicans to vote for it. You can't do it with just Democrats. And you're going to have to be able to convince the American people that this is understandable, soluble."
Popular in the Community