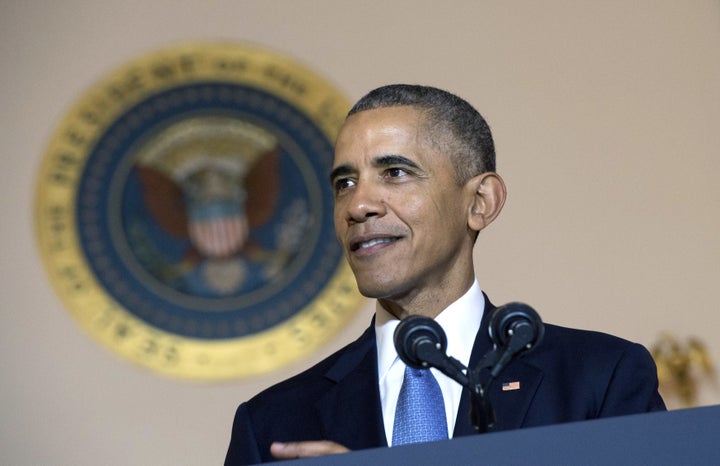 WASHINGTON -- Transgender individuals gained new legal protections against discrimination by health insurance companies and medical providers under a regulation published Friday.
The health care rules stem from anti-discrimination provisions in the Affordable Care Act, designed to prevent unfair treatment based on sex, gender identity and sexual orientation. They are the latest step President Barack Obama has taken to extend civil rights protections for transgender people.
Most recently, the Obama administration has challenged a North Carolina law mandating individuals use public bathrooms that correspond with the gender they were assigned at birth, and notified public schools they risk losing federal funds if they impose similar requirements on students.
Under the new regulations, transgender people are guaranteed equal treatment by insurers and medical providers, and will have the right to make civil rights claims against those that deny them coverage or necessary care because they are transgender. That includes forbidding health insurers from categorically excluding treatments related to gender transitions, although it doesn't mandate those procedures be covered.
The rules will take effect in 60 days and apply to any health care provider or health insurance company that receives federal funds, and to state Medicaid agencies and the Obamacare health insurance exchange marketplaces.
"Today's announcement is a key step toward realizing equity within our health care system and reaffirms this administration's commitment to giving every American access to the health care they deserve," Health and Human Services Secretary Sylvia Burwell said in a press release.
Advocates for the lesbian, gay, bisexual, transgender and queer communities praised the new rules.
"LGBT people have too often faced healthcare systems that provide inequitable and hostile treatment. This new and important regulation will address many of these disparities and is critical to help end discrimination against transgender and gender nonconforming people in healthcare and insurance," Human Rights Campaign President Chad Griffin said in a press release.
Some health insurance companies refuse to cover treatments related to transitioning, such as hormone therapy and mental health services, and some medical providers deny treatment to transgender people. A 2015 survey revealed that more than 40 percent of female-to-male transgender people have experienced discrimination in the health care system.
"LGBT people have too often faced healthcare systems that provide inequitable and hostile treatment."
Under federal law, sexual orientation isn't what's called a "protected class" -- meaning it's still legal to discriminate against people for being gay. While the new regulations don't change that, they offer limited protections for LGBT people by barring discrimination based on "sex stereotyping," which is when someone is treated differently because that person doesn't behave ways consistent with their perceived gender identity (for example, discriminating against a man because he has "feminine" characteristics).
Broadly, the rules prohibit discrimination based on sex; pregnancy, childbirth and related conditions; gender identity; and sex stereotyping. Patients also gain the right to make a civil rights complaint when they believe discrimination has occurred.
Health insurance companies can't refuse anyone's business, deny claims for services covered by their plans, charge more for care or otherwise discriminate in their treatment of customers based on sex and those other considerations. Likewise, physicians, hospitals and other medical providers must provide equal access to health care services to everyone, regardless of sex or gender identity or sex stereotyping.
Because the rules apply to health care companies that do business with the federal government, they will cover the vast majority of insurers and medical providers. These entities also may not discriminate in employment based on these criteria.
The Affordable Care Act prohibits health insurance companies and medical providers from discriminating against patients based on sex. Prior to publishing a draft version of the regulation in September, the administration contended protections for transgender people were inherent in the ACA's statutory language. But the administration took explicit action at the urging of advocates for transgender people.
What the regulations don't do is require health insurance companies to cover any specific treatments or procedures, including gender confirmation surgery. But the rules mandate that insurers cover a service for a transgender person when they cover it for any other patient. For example, if a policy pays for women to receive hormone therapy during menopause, it also must pay for a transgender person to get the same treatment as part of transition.
Similarly, the regulation requires insurers and health care providers to allow access to medical care irrespective of a transgender person's identity or gender assigned at birth. For instance, female-to-male transgender individuals can't be refused a medically necessary pelvic exam.
The regulation does not include a new exemption for religious reasons, but doesn't undo preexisting exemptions, according to the Department of Health and Human Services.
In addition to the new protections based on sex, the regulation strengthens anti-discrimination guarantees for people with disabilities, and requires insurers and health care providers to make reasonable accommodations for patients with limited English proficiency.
Popular in the Community