WASHINGTON ― Former President Barack Obama has a simple rule about engaging politically in the age of Donald Trump: Ignore the noise, respect the space, but don't let the direct mischaracterizations go unanswered.
Over the weekend, President 44 weighed in for the second time on his successor's tenure, in this instance refuting the charge, leveled in the most Trumpian of fashions ― a pre-7 a.m. tweet ― that he had wiretapped Trump Tower prior to the election.
"As part of that practice, neither President Obama nor any White House official ever ordered surveillance on any U.S. citizen," Kevin Lewis, a spokesman for Obama, said in a statement. "Any suggestion otherwise is simply false."
Though Obama has long touted the virtues of former presidents remaining on the sidelines as current presidencies unfold, aides and associates said there wasn't much hesitation about issuing the statement. As one adviser said, there will be pushback when Trump is "hitting at the integrity of the office of the presidency."
But those aides and associates also recognize that battles with Trump must be strategically chosen, because excessive engagement carries a price. It's not just about extending the courtesy of distance that President George W. Bush and much of his team showed back in 2009. Obama also is wary of suffocating the next generation of Democratic leaders by remaining personally involved.
"In his mind, it is more about being strategic in the sense that it is hard to see how it is in anyone's interests for him to become the face of the resistance or to be narrating the Trump presidency," said a source close to the former president. "He knows he sucks up all the oxygen when he speaks. The lights are on us and the extent we take up the oxygen ― it affects the next generation of leaders rising."
From his preferred distance, however, Obama remains engaged. Though his public appearances suggest a former president blissfully enjoying his time away from politics ― kite surfing with Richard Branson or taking in a Broadway play ― aides said he has followed the developments of the Trump presidency closely, reading newspapers and occasionally watching news on TV.
"Print more than broadcast," said the source close to Obama. He is not an avid Twitter user like his successor. But he is aware when a Trump flourish blossoms into a full-blown controversy on the social media platform, the source said. He occasionally follows, but never directs, the pushback that his former top staffers offer on Twitter.
Obama's also dispatched his team ― more than a dozen strong, working out of an office in the West End neighborhood of Washington ― to keep tabs on the unreported stories. There is a regular conference call for "the Obama network," a meeting the ex-president attended with former aides a few weeks back, and ad hoc calls to Senate and House Democrats, state-based groups and grassroots organizations.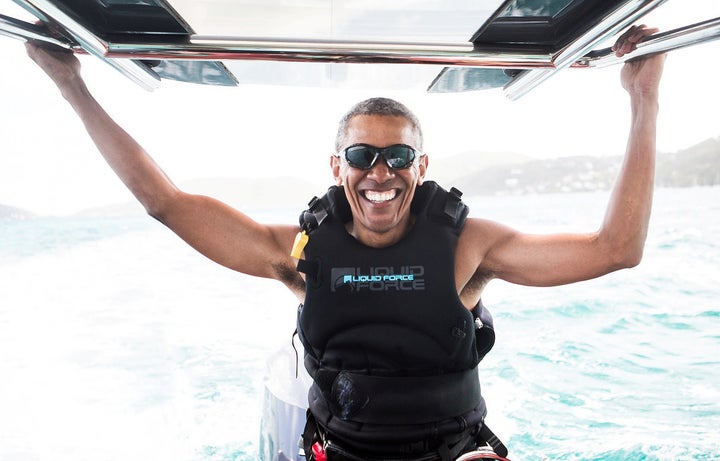 To these constituencies, Obama staff members have repeated the mantra that they feel obliged to give Trump some space to operate, even as the central legislative achievements of the Obama era come under threat. That both of Obama's interjections have come in the form of an emailed statement under a spokesman's name speaks to that.
"For President Obama, this next chapter of his public service will focus on his core principle of grassroots engagement. This was previewed in his farewell address to the country, and has animated in his entire career in public life," said his spokesman, Eric Schultz.
What this means, in practical terms, is no overt policy criticisms. When Obama spoke out for the first time during the Trump era ― just 10 days into the new presidency ― the main thrust was to express solidarity with those protesting the first version of Trump's Muslim ban. But the impetus for the statement, as an aide explained, was that Trump's team had erroneously stated that the Obama administration had provided the logistical template for the ban itself.
The question Democrats are asking is whether such an approach is sustainable. While Obama may be invested in upholding norms, his former aides argue that those norms tend to be overstated. While Bush stayed mum during the Obama presidency, for example, many of his top aides were far from reserved, criticizing things both superficial and substantive. Former Vice President Dick Cheney warned just weeks into Obama's presidency that the new president was inviting a nuclear or biological attack on America.
"Obama's inclination would be to follow the Bush model as a person," said Jen Psaki, Obama's former communications director. "But, I think people are forgetting that there were a number of people on the Bush team who criticized Obama."
And then there is the issue of Trump, who shares no apparent commitment to the preservation of norms, and who has lashed out against his predecessor in ways that Obama ― for all his bemoaning of inheriting Bush's soured economy ― never did. Before Trump took office, Obama's main approach to his successor was that it made strategic sense to act diplomatically and maintain an open channel of communication in case one was needed. And for that, Trump routinely praised Obama for his temperament and counsel. He even seemed open to keeping elements of Obama's agenda, including health care.
But circumstances have changed since then, in ways that have forced Obama and his aides ― like the rest of the political universe ― to reconsider their posture. Trump himself has turned on Obama in recent days, with a series of attacks on his policy record, accusations of wiretapping, and an insistence that Obama, not he, is responsible for souring their relationship.
"It is disappointing that [Obama] isn't affording President Trump the same courtesy that his predecessor showed toward him," Michael Short, a White House spokesman, said in a statement to The Huffington Post.
Obama's aides and allies, for their part, have certainly noticed that for all the care they put into their approach to Trump, the result hasn't exactly been cordiality. As one former aide noted, during his first few weeks in office, Obama steadfastly refused to investigate Bush's authorization of torture, even under immense pressure from his base, while Trump called for a congressional investigation of Obama apparently based on a Breitbart article.
"Look, Obama started with the attitude of, 'I care about the country and it is the patriotic duty to help my successor.' And in the face of difficult circumstances he's maintained it as long as he can," said Steve Elmendorf, a longtime Democratic operative and lobbyist. "Trump this weekend was provocative in the extreme, and even then Obama hasn't really responded. He gave a written statement off camera that was purely factual.
"At some point, does he say, 'I have to talk directly to the American people and tell my story?' History would tell you no, presidents don't do that. But we are in a place that is totally unique to American history."
This story has been updated with the White House's statement.
Want more updates from Sam Stein? Sign up for his newsletter, Spam Stein, here.
Sign up for the HuffPost Must Reads newsletter. Each Sunday, we will bring you the best original reporting, long form writing and breaking news from The Huffington Post and around the web, plus behind-the-scenes looks at how it's all made. Click here to sign up!
Popular in the Community