Obama was surely expecting questions about President-elect Donald Trump in his first post-election news conference. He had forcefully argued against the real estate mogul during the campaign, characterizing him as "uniquely unqualified" and "unfit to serve" as president.
But as he did in the White House Rose Garden immediately following the election results and during his Thursday meeting with Trump, Obama held back.
On Monday, Obama repeatedly demurred when asked if he stood by his earlier statements on Trump's lack of qualifications.
"Regardless of what experience or assumptions he brought to the office, this office has a way of waking you up," the president said.
Obama had also slammed Trump's temperament during the campaign, but on Monday, he said he believes Trump can adapt to the responsibilities and demands of being president.
"Whatever you bring to this office, this office has a habit of magnifying and pointing out, and hopefully then you correct for," Obama said. He noted that Trump has "certain elements of his temperament that will not serve him well, unless he recognizes them and fixes them."
The president refused to comment on Trump's decision to appoint Steve Bannon, who has espoused white nationalist and anti-Semitic views, as his chief strategist. Prior to becoming Trump's campaign CEO, Bannon ran Breitbart News, a mouthpiece for the alt-right movement and the kind of racism and bigotry that ran through Trump's campaign.
Obama said he didn't feel it was his place to weigh in on his successor's plans.
"I think it's fair to say that it would not be appropriate for me to comment on every appointment that the president-elect starts making if I want to be consistent with the notion that we are going to try to facilitate a smooth transition," Obama said.
Instead, he insisted on promoting civility. Obama described his meeting last Thursday with the president-elect as "cordial." He called Trump "a gregarious person" and "somebody who I think likes to mix it up and to have a vigorous debate." He even praised Trump's "gifts" and "impressive" ability to tap into the concerns and passions of his supporters.
When asked for his impressions after their meeting, Obama said he believes Trump "is sincere in wanting to become a successful president."
He said he told Trump that "campaigning is different from governing, and I think he recognizes that."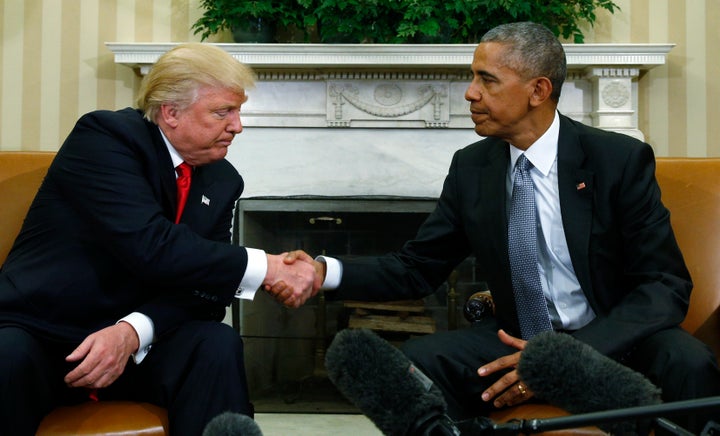 Obama suggested that President Trump may prove changeable.
"He is coming to this office with fewer set, hard-and-fast policy prescriptions than a lot of other presidents might be arriving with," Obama said. "I don't think he is ideological. I think, ultimately, he is pragmatic."
Obama is ready and willing to offer advice through the transition. The Wall Street Journal reported Sunday that he intends to spend more time with the president-elect, and at Monday's press conference, Obama noted that he will remain in contact with Trump while on his last overseas trip as president this week.
Even as Trump has threatened to overturn many of his signature policy achievements, Obama sought to assuage concerns about Trump's presidency. He compared government to "an ocean liner," arguing that change comes slowly.
"Of course I have got concerns. You know, he and I differ on a whole bunch of issues," Obama said. "But you know, the federal government and our democracy is not a speedboat. It's an ocean liner, as I discovered when I came into office."
Calling all HuffPost superfans!
Sign up for membership to become a founding member and help shape HuffPost's next chapter
BEFORE YOU GO
PHOTO GALLERY
Newspapers React To President Trump