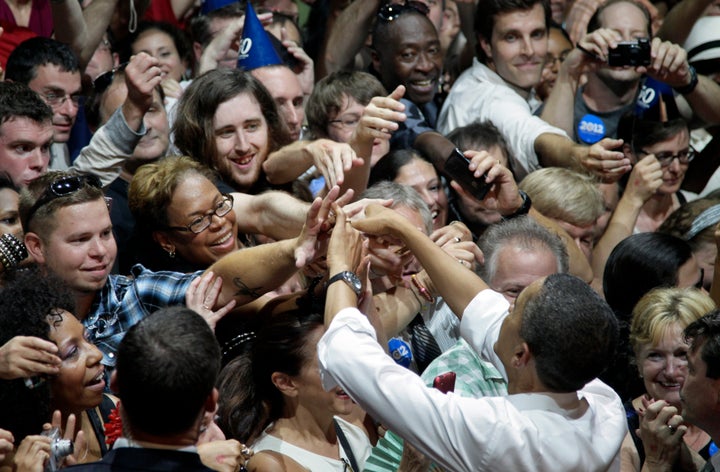 President Obama raised more than $3.6 million on the eve of his 50th birthday Wednesday night, at three birthday party-themed events in Chicago. Back in Washington, two private birthday parties, not fundraisers, are scheduled for him at the White House on Thursday, his actual birthday.
In a little over three hours on Wednesday, Obama held three events in the Windy City: a video teleconference, a large musical fundraiser and a private dinner. The financial benefit was significant: Aides reported that approximately 1,700 people attended the concert, where tickets started at $50. Later, at a private dinner, approximately 100 guests each paid the individual legal maximum donation of $35,800 to the Democratic National Committee.
The birthday theme was strong throughout the night. At his first event, Obama addressed participants at hundreds of campaign-ready "birthday" house parties across the nation. "I'm beaming in from Chicago," he said to them. "Having a little birthday celebration in my home town." The president then took questions from three groups of participants, some of whom waved signs wishing him a happy 50th -- and one questioner sang him "Happy Birthday."
More singing ensued at the next event, a fundraiser at the Aragon Ballroom, but this time it was much more professional: Jennifer Hudson led thousands of donors in a round of "Happy Birthday," accompanied by jazz legend Herbie Hancock (himself an Obama donor), as well as the band "OK Go." Between tunes, Obama touched on many of his 2012 campaign themes, but added a few birthday jokes. Among them, the president told the crowd that he expected an email from AARP the following morning on his birthday, "asking me to call President Obama and tell him to protect Medicare."
The third event was held upstairs at the Aragon, and was much more expensive, with an evening's total of around $3.65 million. Chicago mayor and former Obama Chief of Staff Rahm Emanuel joined the president at both fundraisers, and Obama teased him for not having cursed enough in public since he was elected. There was reportedly no birthday singing at the second dinner.
Obama didn't make it back to Washington until after midnight, and he officially turned 50 while on Air Force One. A few staffers sang to him as he walked into the White House.
The president's plans on Thursday include meetings in the Oval Office during the first part of the day, followed by an afternoon party hosted by his staff. On Thursday evening, the president's good friends will join his family for a private celebration at the White House, paid for by the Obamas.
The guest list for Thursday night has yet to be released, but a number of the couple's close friends from Chicago are reportedly planning to attend. Partygoers would likely include the president's BFF's, Marty Nesbitt and David Whitaker, as well as good friends Laurent Delanney, Greg Orne, Wahid Hamid and Michael Ramos, all of whom traveled to D.C. for his birthday last year. Along with his old friends, three of Obama's former White House aides have moved back to the Windy City in the past year, former Chief of Staff Rahm Emanuel, former Senior Adviser David Axelrod and former Social Secretary Desiree Rogers. Any of them would fit right in at an Obama family birthday party. Obama's eldest daughter Malia will also travel to Washington for her dad's big 5-0, making a special trip home from summer camp for the occasion.
Judging from past birthdays, the menu will likely consist of simple summer favorites like burgers and barbecue, with pie for dessert. In 2009, Obama called White House party chef Bill Yosses' pies "the best pie you have ever eaten," and said he and the first lady "are having to figure out how to resist ordering pie every night."
Amid all this fun, there's one thing the president may have to go without on his 50th birthday: a round of golf. Obama hit the links last year during a birthday weekend with his buddies. This year, the plan is for the family to spend the weekend at Camp David. But there's always hope: In June, Obama traveled by helicopter from Camp David to Andrews Air Force Base for a round of golf.
Popular in the Community