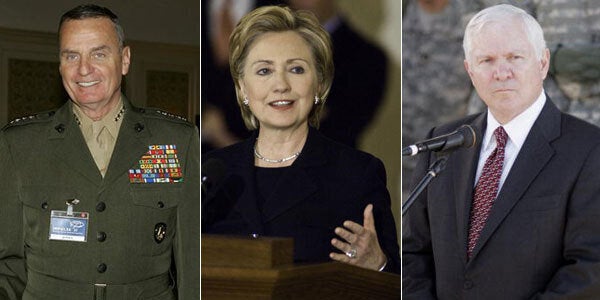 The New York Times, in previewing President-elect Obama's national security team, reports that several key members have more "hawkish" records than he does but that he selected them because they agreed with Obama about the need for a "rebalancing of America's national security portfolio":
When President-elect Barack Obama introduces his national security team on Monday, it will include two veteran cold warriors and a political rival whose records are all more hawkish than that of the new president who will face them in the White House Situation Room.

Yet all three of his choices -- Senator Hillary Rodham Clinton as the rival turned secretary of state; Gen. James L. Jones, the former NATO commander, as national security adviser, and Robert M. Gates, the current and future defense secretary -- were selected in large part because they have embraced a sweeping shift of resources in the national security arena.

The shift, which would come partly out of the military's huge budget, would create a greatly expanded corps of diplomats and aid workers that, in the vision of the incoming Obama administration, would be engaged in projects around the world aimed at preventing conflicts and rebuilding failed states.

Whether they can make the change -- one that Mr. Obama started talking about in the summer of 2007, when his candidacy was a long shot at best -- "will be the great foreign policy experiment of the Obama presidency," one of his senior advisers said recently.
Click through a slideshow of Obama's national security team, set to be announced on Monday morning:
The Associated Press reported that Obama planned to name six "experienced hands" to fill top posts in the administration at a news conference in Chicago on Monday morning:
His selections include longtime advisers and political foes alike, most notably Democratic primary rival Hillary Rodham Clinton as secretary of state and President Bush's defense secretary, Robert Gates, staying in his current post. The two were among six who Obama planned to announce at a news conference in Chicago, Democratic officials said.

The officials said Obama also planned to name Washington lawyer Eric Holder as attorney general and Arizona Gov. Janet Napolitano as homeland security secretary. He also planned to announce two senior foreign policy positions outside the Cabinet: campaign foreign policy adviser Susan Rice as U.N. ambassador and retired Marine Gen. James L. Jones as national security adviser.
And the Wall Street Journal reports that Obama has already named more than a third of his cabinet but that he is taking longer to fill top intelligence posts:
Mr. Obama appears to be having a harder time filling his top intelligence posts, a harbinger of the tough choices facing the president-elect as he considers whether to retain the Bush administration's controversial interrogation and surveillance policies.

Several officials close to the transition process said retired Navy Adm. Dennis Blair was the front-runner to be the director of national intelligence, though they cautioned that the decision hadn't been finalized and probably wouldn't be announced Monday. The officials said that Mr. Obama was impressed by Adm. Blair's reputation as a strong manager.

The officials said the Obama team is still evaluating candidates to run the Central Intelligence Agency. The campaign had planned to tap 25-year CIA veteran John Brennan to run the agency, but he took himself out of the running late last week after liberal elements of the Democratic Party revolted.
Calling all HuffPost superfans!
Sign up for membership to become a founding member and help shape HuffPost's next chapter