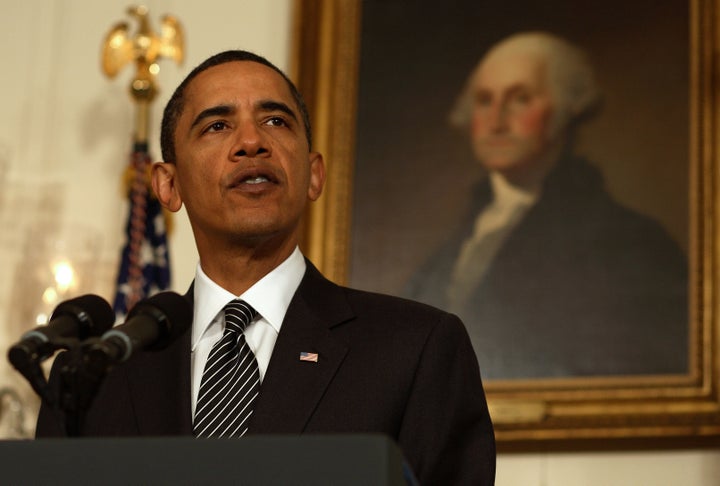 The White House and Congress Democrats are launching a major populist initiative in an effort to lead, rather than suffer from, the anti-Wall Street, anti-establishment mood sweeping the country.

In a sharp turnaround, the administration on Thursday announced a new proposal to place limits on the size of banks and prohibitions on their commercial activities. It's an idea that one senior White House official said President Obama began considering "a couple of months ago." But the timing of the rollout, coming one day after what the White acknowledged was a "wake up call" wasn't a coincidence.

The reality of angry voters turning against them, as embodied by the election of Republic Scott Brown to the Senate seat in Massachusetts, is having a profound effect on Democratic leaders. Officials now recognize that the party appears far too aligned with financial industry bailouts and special-interest dealmaking, and that if the electoral bloodletting is to end, more distance is needed from Wall Street.

The wheels are very much in motion. On Wednesday, just hours after Brown declared victory, White House senior advisers David Axelrod and Valerie Jarrett met with Elizabeth Warren, the congressionally-appointed bailout watchdog and a long-standing champion of consumer protection. Discussions touched on various aspects of financial regulatory reform including Warren's central project, a Consumer Financial Protection Agency (CFPA). White House Press Secretary Robert Gibbs on Wednesday also reaffirmed Obama's directive that any piece of legislation had "to include a consumer protection agency."

"People are going to get to decide whether they're for the banks or whether they're for Americans getting paid back," Gibbs said of Obama's bank tax proposal. "They're going to decide whether they're going to side with the lobbyists on killing a consumer agency or those that want to support it."

The hope within the White House and among Democrats on the Hill is that a recommitment to curbing Wall Street's excesses will no longer put the party on the defensive against a movement that should not, logically, be sweeping Republicans into office.
The thinking is that actively and publicly pursuing such policies as a tax to recoup TARP funds, a levy on executive compensation, restraints on banking activity, and provisions to stem the mortgage crisis, would allow Democrats to grab both news headlines and the moral high ground. It would also put Republicans in a bind, forced to either support Democratic initiatives or cast votes that could put them at odds with the tea-party crowd that now serves as their base.
"It is smart policy and smart politics," White House senior adviser David Axelrod said of a new, comprehensive financial regulatory reform package in an interview with the Huffington Post shortly after Brown's victory. "It is essential policy because we need some kind of protection against the catastrophe brought on by the financial sector over the last few years. Consumers need protections against the kind of shenanigans we have seen... I think it is an important thing and we intend to pursue it aggressively."

"At the end of the campaign, Senator Brown said that he would not support putting a fee on the financial industry to repay all the money that taxpayers extended to pull them out of the soup last year," Axelrod continued. "I actually think that had that issue arisen earlier in the campaign it would have been problematic for him."

"I think the American people are looking for someone to punch in the nose and whether we think that is right or wrong on the substance I think it is an undeniable political force right now," said Rep. Anthony Weiner, in an interview with the Huffington Post. "It is natural, keeping with what our brand should be and used to be... but we even kind of muddied that deal up a bit too. The president seems though to be getting his sense of this with his railing that we are going to get our money back."

"We should have done this a while ago," said Rep. Raul Grijalva (D-Ariz.). "We could have been tough initially. If we were, we would not be dealing with the consequences of looking weak right now."

With the lessons of Massachusetts fully set in, one strategist observed that the climate may actually be riper now for financial regulatory reform than it was when Democrats had 60 caucusing members in the Senate.
But it's not that simple. Banking interests have already poured tens of millions of dollars into watering down financial regulatory reform legislation, to considerable success. And if the first year of Congress under an Obama White House has provided any template for Democratic governance, it's that unifying the party around even most advantageous of legislative objectives is a tall order. Already, there is chatter among the progressive wing of the party that, unlike health care reform, they will not sign on to a financial regulatory reform bill that is compromised beyond effectualness.

"We absolutely have to get it done right," said Rep. Peter Welch (D-VT). "If what we pass is insufficient, that gives the illusion of reform but in fact it gives permission for these guys to continue robbing the bank, that would be a disaster."
Popular in the Community