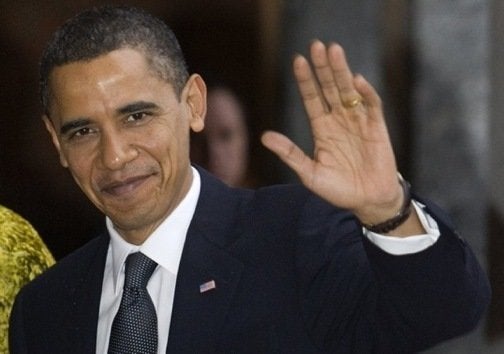 President Obama has sent his first Tweet.
Obama admitted in November 2009 that he had "never used Twitter" ("My thumbs are too clumsy to type in things on the phone," he explained), which came as a disappoint to avid Twitterers--and his more than 3 million followers on Twitter.
On January 18, during a visit to the American Red Cross headquarters in D.C., the President finally posted his first Twitter update.
His inaugural Tweet didn't come from his Twitter account, @BarackObama, but rather from the Red Cross' account, @RedCross. His Tweet was also in the third person (see screenshots below):
President Obama and the First Lady are here visiting our disaster operation center right now.
The Red Cross followed up with a post confirming that it was Obama who had sent the Tweet:
President Obama pushed the button on the last tweet. It was his first ever tweet!

TechCrunch wonders why the President chose not to update his personal Twitter account:
Obviously, this tweet was a way of showing his support for what the Red Cross is doing to help people in Haiti following the devastating earthquakes there last week. Though it might have been better for him to tweet from his account with over 2 million followers about the relief rather than the Red Cross' which has a "mere" 50,000 followers.
It remains to be seen if Obama will keep up the Tweeting.
A recent study that found Republicans have been 'out-Tweeting' Democrats.
The "Twongress" report indicates that the number of 'active' Republican Twitterers is nearly double the number of 'active' Democrats: "89 Republicans are actively tweeting, compared to 43 Democrats," writes The Hill, adding, "The divide is especially apparent in the House, where 42 percent of the Republican Caucus is tweeting, while only 12 percent of the Democratic Caucus has found a Twitter audience."
See a screenshot of Obama's Twitter post below: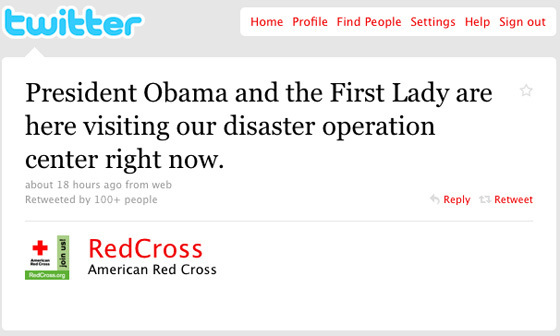 Support HuffPost
The Stakes Have Never Been Higher
Related
Popular in the Community