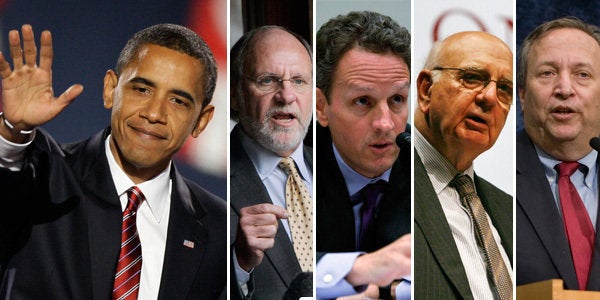 President-elect Barack Obama may feel some pressure to pick a new Treasury Secretary very quickly. BloggingStocks suggest that if the Obama picks a Treasury Secretary, he might do well to work with President Bush to nominate him or her and get approval immediately in order to help the transition:
Further, Wang said it would be a good idea, from both crisis management and continuity standpoints, for President Bush to nominate the new president's successor to the current Treasury Secretary, after the president-elect has determined who he will recommend for the post.

The Senate Banking Committee could then hold hearings on the nominee shortly after Election Day, with the lame-duck U.S. Senate voting on the nominee this fall, Wang said. The aforementioned will allow for a quicker transition of the critical Treasury Secretary post, Wang said, than waiting until January 2009 to start to the Treasury nominee review process
The New York Times suggested that the grounds to make a new Treasury Secretary decision quickly had been set prior to the election:
Already, many are counseling Mr. Obama on how he should approach the handling of the financial crisis come Inauguration Day on Jan. 20. His colleague in the Senate, Charles Schumer, said on "Charlie Rose" last week that the new president must quickly name a new Treasury secretary and bolster the regulatory system that oversees Wall Street.

In an article written before Election Night, Breakingviews argued that the Federal Reserve must be remade in the image of one of Mr. Obama's most prominent financial advisers. "The president-elect should change the Fed's structure and mandate it to take aim only at inflation, so as to force its future chiefs to act more like Mr. Volcker," it argues.

In a view written after the returns were counted, Breakingviews says that Mr. Obama's choices may be limited, despite the large margins of victory he racked up in the popular vote and in the Electoral College. Increasing spending and monetary expansion are virtually impossible, so the president-elect must take pains to work within what will surely be constricting boundaries.
Some of the likely candidates for Treasury Secretary in an Obama administration:
Related
Popular in the Community