WASHINGTON -- As Congress considers rolling back a law meant to protect unaccompanied minors from being summarily deported to unsafe countries, protesters rallied outside the White House on Thursday, calling on President Barack Obama to stand up for the children.
They carried signs denouncing the idea of expediting deportations. "Ni una mas deportacion," one sign read -- not one more deportation.
"You ran on a campaign of hope!" cried one protester as the crowd cheered. "Where is the hope for these children?"
The demonstration was organized by Amnesty International and immigration advocates We Belong Together, with support from multiple other groups, including the Central American Resource Center and the children's advocacy group First Focus.
Joanne Lin shared stories of individual children who risked the treacherous journey across the U.S. border. Lin works as a legislative counsel for the American Civil Liberties Union, another group supporting the rally.
"These stories are horrible," she said. "They are stories about young girls and boys who have escaped gang rape, forced prostitution, forced gang recruitment. They are fleeing just horrid conditions. The governments there are not able to protect their children from violence, and we are so concerned that children who qualify for refugee status or humanitarian relief are going to be sent back to their destruction and demise."
Congressional lawmakers are now considering changes to the 2008 law that requires a hearing in front of an immigration judge before unaccompanied minors from countries other than Canada and Mexico can be deported. Republican leaders have already indicated they want to tie changes to that law to any additional funding for dealing with the border crisis. Democrats have said they will resist, but the White House has remained open to amending the law given the current influx of children.
Protesters on Thursday emphasized the horrors that pushed these children to flee.
"Poverty in itself is not a factor," said Abel Nunez, executive director of the Central American Resource Center. "It is the violence -- gang violence, cartel violence, criminality -- and it extends from various factors, including the legacy of civil wars that the U.S. played a role in."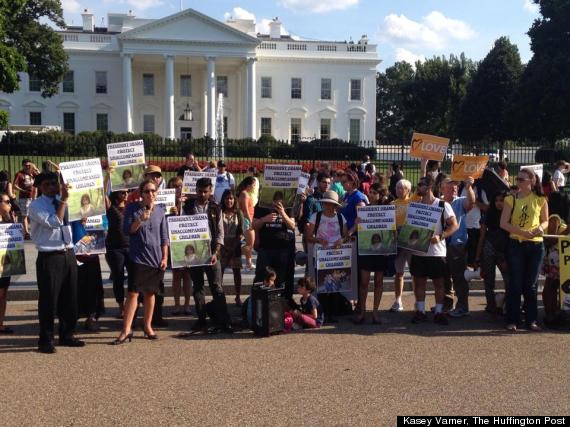 The activists argued that putting thousands of minors on one-way flights back home is not the answer.
"The reason why we have this bottlenecking at the border is that we are trying to determine what is in the best interest of the child. The fact that it is inconvenient right now -- I don't think it's an excuse for the nation not to put resources behind it," Nunez said.
He deplored the political in-fighting on this issue. "Both parties are trying to figure out what fits them best politically," Nunez said, "and who they are sacrificing are the children."
Calling all HuffPost superfans!
Sign up for membership to become a founding member and help shape HuffPost's next chapter
BEFORE YOU GO
PHOTO GALLERY
Why Latin Americans Really Come To The U.S.