WASHINGTON -- In recent days many Democrats have received a mailer from the Obama campaign entitled "A Plan for Jobs & Middle-Class Security." Union members who receive the 20-page brochure may notice something disappointing: Labor unions apparently don't figure anywhere in the president's grand plan.
It's a basic tenet of American liberalism that labor unions helped build the nation's middle class, and that falling union membership rates in recent decades have likely contributed to the middle class's shrinking share of the economic pie.
Yet the campaign's jobs blueprint, dubbed "the new economic patriotism," doesn't make a single mention of unions or the labor movement. Instead, the brochure hypes the president's plans to boost American manufacturing, increase domestic energy development and cut taxes for small businesses. Despite no mention of collective bargaining, the plan to rebuild the middle class even plays up deficit reduction.
Labor activists may feel doubly slighted by the omission, considering many of them at the moment are assisting the Obama campaign in its critical get-out-the-vote efforts ahead of Tuesday's election. Labor unions by tradition supply much of the ground game that Democratic politicians rely on.
"This is but one final pre-election insult to a labor movement that has pulled out all stops to get this administration re-elected," said Chris Townsend, a spokesman for the United Electrical Workers Union. "I wonder what the hundreds of thousands of union members doing the campaign heavy lifting this weekend to re-elect this regime would think if they knew they did not even exist in the President's economic plan for the next four years."
One explanation for the omission: The jobs blueprint is a piece of campaign material. The Obama campaign may have determined that unions are too polarizing in the minds of swing voters to vocally back in the last days of the election. The president doesn't speak often about collective bargaining unless addressing a union crowd.
Yet unions' usefulness to the Obama campaign is undeniable.
The AFL-CIO, the largest federation of labor unions in the nation, is now in the midst of its "final four" push ahead of the election, in which it hopes to knock on five million doors and make five million phone calls to voters during the last four days of the campaign to help the president. AFL-CIO President Richard Trumka has been a reliable and high-profile attack dog ripping into Mitt Romney throughout the election season.
The Service Employees International Union, another dependable ally of the Obama administration, said yesterday that it plans on knocking on 100,000 doors a day in battleground states in the campaign's last days.
An Obama campaign spokesman did not immediately respond to a request for comment on the brochure.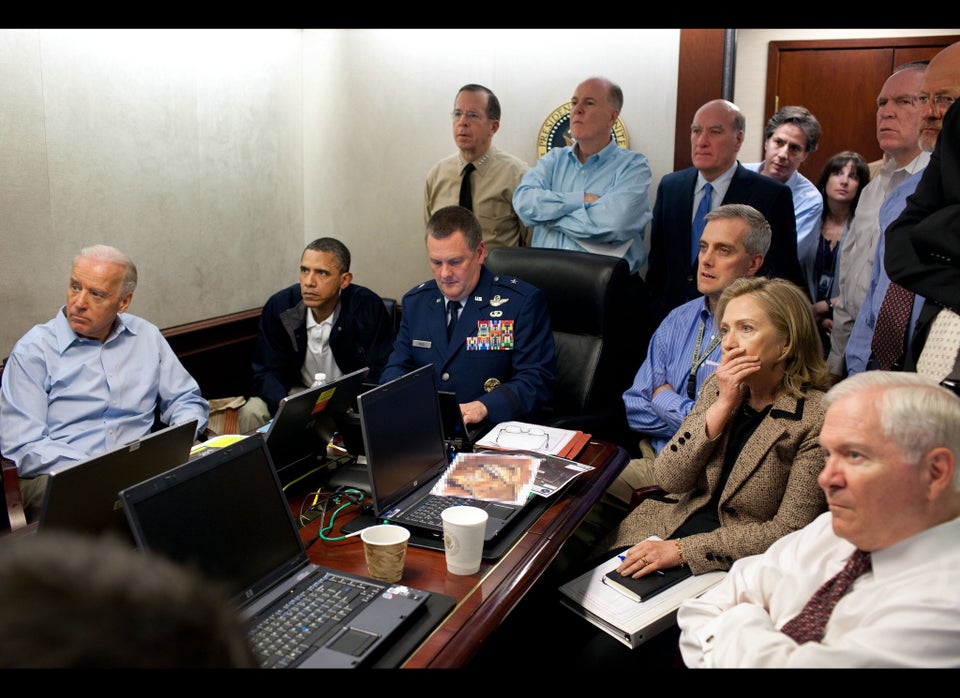 Most Iconic Photos Of Obama's First Term