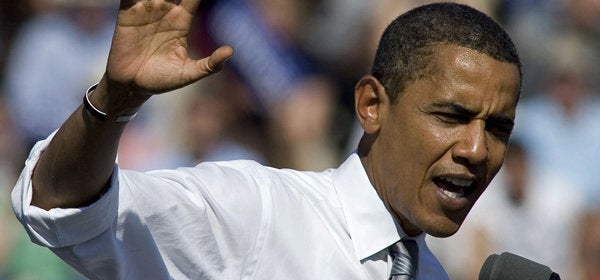 A new SurveyUSA poll finds John McCain's chances of winning Virginia slipping away. Barack Obama is ahead in the state by ten points, 53% to 43%. The full results:
As McCain's Lead Among White Virginians Shrinks, So Too His Chances of Holding The State's 13 Electoral Votes: 29 days until votes are counted in Virginia, Democrat Barack Obama is ahead 53% to 43%, according to this SurveyUSA poll conducted exclusively for WDBJ-TV in Roanoke, WJLA-TV in Washington DC, WTVR-TV in Richmond, and WJHL-TV in the Tri-Cities. In 4 tracking polls conducted since the Republican Convention, McCain has gone from up by 2 to down by 10.

There is movement among men, where immediately after the GOP convention, McCain led by 10, and where today Obama leads by 11.

There is movement among whites, where McCain's once 22-point lead is today reduced to single digits.

There is movement among the well-to-do, where today for the first time Obama leads.

There is movement among pro-choice voters, where Obama's lead has doubled since August.

McCain no longer leads in any region of the state. In Northeastern VA, which includes the DC suburbs, Obama leads by 24 points. In Central Virginia, home of the Confederate White House, the Museum of the Confederacy and Appomattox, Obama today leads by 8. In Southeastern Virginia, Obama leads by 11. In the Shenandoah, where John McCain led by 24 points one month ago, Obama and McCain today tie.

Filtering: SurveyUSA interviewed 900 Virginia adults 10/04/08 and 10/05/08. Of the adults, 832 were registered to vote. Of the registered voters, 666 were determined by SurveyUSA to be likely voters in the 11/04/08 general election. Virginia has 13 Electoral College votes. George W. Bush carried Virginia by 8 points in both 2004 and 2000. Virginia last cast its Electoral College votes for a Democratic Presidential candidate in 1964, when Lyndon Johnson defeated Barry Goldwater.
A Suffolk Poll shows Obama with a similarly commanding lead in the state, 51% to 39%.
Popular in the Community