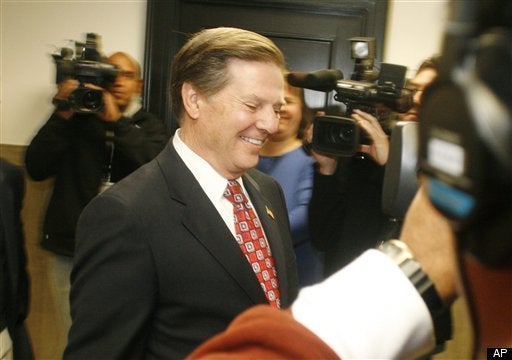 Former House Majority Leader Tom DeLay (R-Texas) is well-known for tightly controlling rank-and-file Republicans with his "hammer," and "Dancing" with the "Stars" with his "velvet hammer," but he also indulged in a ton of corruption, and was recently sentenced to three years in jail for money laundering and conspiracy. (DeLay will appeal!) Tom Campbell, who tried to unseat DeLay in the 2006 Republican primary, agrees that DeLay's "ethical conduct had fallen below the standard acceptable for an elected official." He also thinks that DeLay should be pardoned for his crimes, because how else will we stop children from being gunned down by madmen. What?
I'm not at all sure if Campbell isn't really trying to do something Jonathan Swift-y in his editorial in today's Washington Post, but his basic premise is this: when he ran against DeLay, he "could and did say the hard things" pertaining to DeLay's corruption and the way he had personally pushed the political debate into a more "unduly divisive" direction. But, duh, both sides do it!
Democrats took control of the House and Senate that year, but little seems to have changed overall. Eventually, Charles Rangel replaced DeLay as the personification of the Culture of Corruption. Rangel stepped down as chairman of the powerful House Ways and Means Committee last year and was censured by his colleagues for 11 rules infractions related to unpaid taxes, undisclosed financial assets and fundraising from corporations with business before his committee. His fall is similar to DeLay's with one stunning exception: DeLay may well spend three years in jail.
To me, all of this simply reveals the shortcomings of a system that fails to lock up Charlie Rangel for being an awful grifter. But to Campbell, DeLay's crimes are different, in that they were well-intended:
No one would call me a fan of Tom DeLay, but I will say that three years in prison is manifestly unfair. I carefully reviewed DeLay's background when I ran against him, and people were only too happy to tell me of his shortcomings. But what I found in DeLay was a zealot willing to blur the line in pursuit of what he thought to be a good cause, not someone using his office to seek financial gain. There were no personal slush funds, no house remodeled by a lobbyist, no unreported vacation home. He was only trying to build our party.
Sure, DeLay was awful and unethical and he made the discourse toxic, but he was only trying to be good to the party. Someone who would build the brand and be a reliable ally. Sort of like Hosni Mubarak is to Joe Biden, except the future of a democracy isn't at stake.
Or is it? Apparently, if we do not set DeLay free, children, and perhaps puppies, will be killed in cold blood, or something:
Perhaps the tragedy of Tucson can be a landmark in the progress of our political process. The courage, hopes and ideals captured so eloquently in President Obama's eulogy can set a tone for American politics for this decade or be forgotten as our actions belie our pleasant rhetoric.

We are at a crossroads where a grand gesture - an extraordinary olive branch extended over the partisan divide - could cement the gains we appear to have made and take us one step closer to becoming the United States idealized by 9-year-old Christina Taylor Green.

To that end, Mr. President, please join with Texas Gov. Rick Perry in pardoning Tom DeLay.
Do you really want "to live up to [Christina Green's] expectations," Mr. Obama? Do you really "want our democracy to be as good as she imagined it?" Then give Tom DeLay his life back!
Like I said, there's a good chance that this op-ed is a "parody" of "actual human reasoning."
Popular in the Community