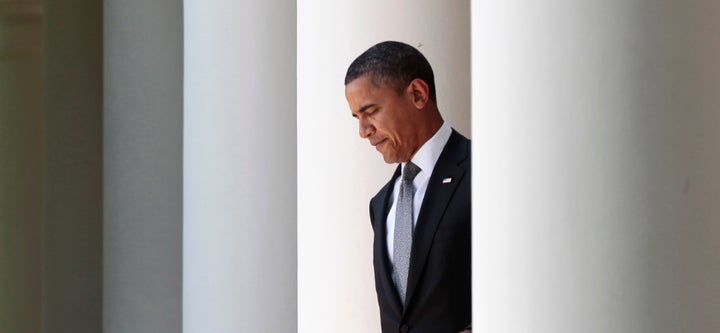 WASHINGTON -- Presidents routinely choose party loyalists as their U.S. attorneys. But normally, they choose nominees from their own party.
President Barack Obama dismayed fellow Democrats on Tuesday when he announced his pick to be the next U.S. attorney for Utah is David Barlow, currently the general counsel to freshman senator and Tea Party favorite Mike Lee (R-Utah).
Todd Taylor, executive director of the Utah Democratic Party, said his group sent the names of several strong, qualified Democratic candidates for the job to the White House, then never heard anything back.
"We're just deeply disappointed" by the Barlow nomination, Taylor said, "and given the legal philosophy of Mike Lee, it leads us to wonder what this guy even thinks about the law."
The liberal ThinkProgress blog suggested that "Lee's contempt for the Constitution raises serious concerns about Barlow's fitness to serve as Utah's top federal attorney."
All in all, Taylor said, the nomination "just raises a bunch of question about why."
One answer is that Obama's leeway when it comes to successfully nominating U.S. attorneys and federal judges is severely limited by intransigent Republicans -- and by Senate Judiciary Committee Chairman Pat Leahy (D-Vt.). The Vermont senator has insisted that either senator from a nominee's home state can block the nomination simply by refusing to signal support.
The end result is that Obama, in many cases, is working off a list of candidates drawn up and considered acceptable by Republicans, rather than the other way around.
"It's impossible for President Obama to nominate somebody who doesn't have the support of the home-state senators because they won't have the ability to move through the process," said Caroline Fredrickson, executive director of the left-leaning American Constitution Society.
And some Senate delegations, she said, "are extremely ideological and don't consent to the idea that elections matter and that the president should have a prerogative in filling these positions."
Barlow was recommended to the White House by Lee and the senior senator from Utah, Republican Orrin Hatch. He also made it through a vetting process led by the Justice Department that includes extensive interviews.
White House officials defended the move: "The President looks for United States Attorneys who will faithfully discharge their duties as the chief federal law enforcement officers within their particular jurisdictions," White House spokesman Eric Schultz wrote in an email to The Huffington Post.
"Those duties include the prosecution of criminal cases brought by the Federal Government and the defense of civil cases brought against the United States," Schultz continued. "The President is confident that Mr. Barlow will exercise his discretion to further the priorities and needs of the citizens of Utah in an manner consistent with this Administration's priorities."
A former colleague at the Chicago-based law firm Sidley Austin, where Barlow worked for a decade before coming to Washington, described Barlow as conservative, but "anything but radical."
"His approach to politics is certainly mainstream," said Michael Davis, secretary of the firm's executive committee, who said he stays in close touch with Barlow.
"I think the fact that he is general counsel to Mike Lee rightly leads people to conclude that he is conservative in his approach toward politics," Davis told HuffPost. "But he has an open mind and he listens to both sides of an issue."
Lee's office said Barlow would not be available for comment.
Hatch's office had no comment but to pointed to a statement in which Hatch called Barlow "a brilliant attorney with solid Utah values and sound judgment."
Emily Bennion, a spokeswoman for Lee, said Lee would have been willing to approve a Democrat: "The senator would have made his decision based on the individual, and not on his party affiliation," she said.
The White House seriously considered another candidate last year who had the approval of both Utah's Democratic congressman and Hatch, but that candidate dropped out during the vetting process.
This isn't the first time Obama has defied state Democrats in order to find a nominee acceptable to a state's Republican senators -- though it may be the first time the process has ended with a Republican getting the nomination. As the Main Justice website reported, Obama nominated four U.S. attorneys for Texas in June, all of whom had support from the state's two Republican senators, John Cornyn and Kay Bailey Hutchison. But two did not have the support of Texas Democrats, including Rep. Lloyd Doggett.
Doggett told the Houston Chronicle the White House had assured Texas Democrats that they would be consulted. "The administration has disregarded its previous agreement and our hope for more change in the Texas justice system after decades of total Republican domination," he told the Chronicle.
The appointment process could have gone more quickly had Leahy followed the lead of his Republican predecessor -- none other than Hatch -- and treated home-state senators' objections as merely advisory.
But Leahy spokeswoman Erica Chabot said the senator strongly supports the practice of respecting home-state senators' objections. "[Leahy] thinks it is the right one because it encourages consultation between the [White House] and home-state senators," she said.
While presidents typically replace their predecessors' appointed U.S. attorneys with ones who share their own legal philosophies, attorneys are expected to enforce the law in a nonpartisan manner.
What got the Bush administration into trouble -- and cost Alberto Gonzales his job as attorney general -- was the selection of party loyalists followed by the purging of those the White House considered insufficiently partisan in their pursuit of criminal cases.
Popular in the Community