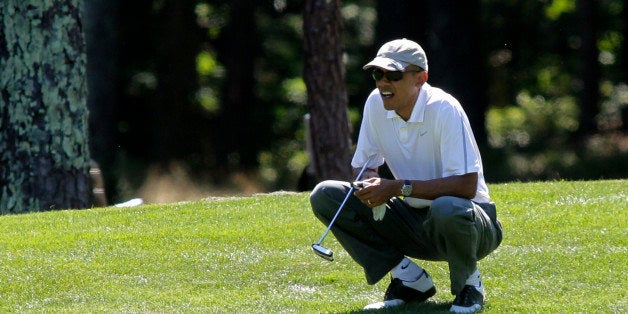 A crisis-weary president addresses the nation on the latest turmoil in the Middle East while on vacation away from the White House, as his staff assures reporters he will be able to monitor world affairs from the comfort of his oceanside home.
No, it's not President Barack Obama, who is vacationing this week at Martha's Vineyard off the coast of Massachusetts. It was George H.W. Bush, who took off on a 25-day vacation to his summer home in Kennebunkport, Maine, in 1990. Despite deploying troops in response to Iraq's invasion of Kuwait, Bush was nonplussed about concerns that he would not be able to effectively manage the situation. He explained he did not wish to ''be held hostage in the White House to events.''
After an extraordinary period of global tumult -- from the deepening crisis in Iraq to Russia's aggression toward Ukraine and the reignited conflict between Israel and Hamas -- politicians and pundits are once again criticizing the chief executive for taking time away with his family during Washington's August doldrums. His decision to leave town "reinforces the conclusion that the president isn't taking the [Islamic State] threat seriously," wrote Hot Air's Ed Morrisey.
But U.S. warplanes would have carried out a dozen strikes against militant targets, as they did this weekend, with or without the president's presence in Washington. Critics counter that it's really more of an optics problem, one that has fallen on deaf ears too many times for a president known to hit the links almost every weekend.
Perhaps as a sign that it was indeed mindful about the president's image, the White House released two photos of Obama this weekend showing him off the beach or the golf green. In one, he receives a briefing from National Security Advisor Susan E. Rice, and in another, he is seen talking on the phone with world leaders.
Taking issue with the timing of a presidential respite is a lazy criticism to lob, especially for members of Congress who are themselves on a five-week break. It's not even a new line of attack -- it has been used in the past across numerous presidential administrations.
For example, Ronald Reagan was regularly attacked for vacationing at his Santa Barbara ranch in California. During one trip in 1984, Reagan signed off on U.S. participation to a peacekeeping force in Lebanon. He made his decision public soon after in "a hastily arranged briefing for reporters at the Century Plaza Hotel," according to The New York Times.
"The news was issued on a single sheet of paper," griped the Times. "It was stunning, though it lacked the narrative power Mr. Reagan displayed on television last fall in dramatically defending the marines' presence in the face of the bombing that had killed 241 servicemen."
Then-House Speaker Tip O'Neill, a Democrat, piled on. ''He just blissfully goes along as the nation shakes and worries,'' he said.
Reagan then departed for "two days of political campaigning" in Los Angeles, mirroring a similar move made by Obama on Monday night.
George W. Bush may have had the worst of it all, however, after his frequent trips to his ranch in Texas. According to the Washington Post, the nation's 43rd president holds the record for most presidential vacation time at 879 days. Democrats regularly lambasted Bush on the matter, even as he took an entire month off at one point.
"There's almost no relationship between the number of hours you sit behind the desk in the Oval Office and how good a president you are," presidential historian Michael Beschloss said at the time.
REAL LIFE. REAL NEWS. REAL VOICES.
Help us tell more of the stories that matter from voices that too often remain unheard.
BEFORE YOU GO