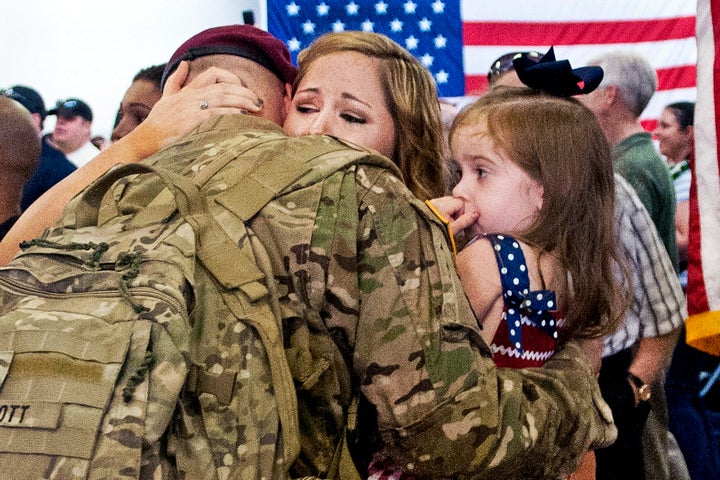 WASHINGTON -- President Barack Obama, responding to unprecedented waves of Iraq and Afghanistan war veterans suffering from combat trauma, has ordered an expansion of mental health services including a beefed-up suicide hotline and more counselors to help those who cannot get into clogged VA facilities.
Although the Obama administration has taken steps in the past to meet the rising demand for mental health and other veterans services, the experience of many veterans is that the hospitals and medical centers of the Department of Veterans Affairs are overwhelmed.
VA officials have insisted that they are meeting the challenge. Since 2009 the VA, under the direction of former Army Chief of Staff, Eric Shinseki -- a Vietnam War amputee -- has increased its mental health staff by 41 percent and boosted its spending on mental health services by 39 percent, to about $6 billion a year.
The VA launched a fleet of 70 mobile outreach vans to get services to veterans in remote areas, and with secure teleconferencing, expects this year to hold 200,000 mental health consultations.
In an interview last year, the VA's undersecretary for health, Dr. Robert Petzel, asserted that the horror stories about veterans having to wait weeks and months for mental health services were a thing of the past. Since 2005, he said, the VA has hired 7,500 mental health therapists, and whatever shortages existed had been fixed.
"We do not have any evidence that we're not able to provide mental health services. So there isn't a shortage -- there just isn't," he said.
But the VA's own inspector general reported earlier this year that the VA can't accurately measure how long veterans have to wait for help. The VA asserted that it sees 95 percent of veterans within 14 days, however, the inspector general's investigation determined that the average wait was actually 50 days, and more than a third of new patients never received timely care.
Sen. Patty Murray (D-Wash.), who chairs the Senate Veterans Affairs Committee, called the findings "infuriating."
But veterans and VA workers are wearily familiar with these shortcomings. The VA's mental health facilities "are very crowded -- we don't have enough counselors or providers for what's coming in," a VA psychiatric nurse recently told The Huffington Post. As a result, she said, many veterans are "out there floating around doing whatever they can to cope, which is usually drugs and alcohol."
In Philadelphia, a veteran with two combat tours in Iraq and a drug habit got in to see the VA mental health providers, but his sessions were reduced from several times a week to once a week, then to once a month. "They are just overwhelmed," 32-year-old Jamie Beavers, who was diagnosed with PTSD and TBI, told The Huffington Post this summer.
The VA's suicide hotline currently receives about 17,000 calls a day with a staff of about two dozen professional counselors.
The White House executive order issued Friday directs the VA to expand the capacity of the suicide hotline by 50 percent before the end of the year. It also orders the VA to ensure that all veterans are seen for an initial assessment by a mental health professional within 24 hours.
To help meet that high bar, the White House ordered the VA to hire an additional 800 veterans to provide peer-to-peer counseling. And the VA must work with the Department of Health and Human Services to hire community health centers, mental health clinics, local substance abuse treatment facilities and other organizations that receive HHS grants to expand their clientele to include veterans.
And because combat trauma, substance abuse and homelessness are so often linked, the White House also ordered a review of every veteran household whose home was foreclosed since 2006. Those wrongly foreclosed will be compensated equal to a minimum of lost equity, plus interest and a refund for money lost because they were wrongly denied the opportunity to reduce their mortgage payments, the White House said.
In a statement Friday, Shinseki said these initiatives "will have a positive impact on the lives of veterans and their families for generations to come."
But he warned that the costs of taking care of veterans will continue to rise. "History shows that the costs of war will continue to grow for a decade or more after the wars have ended," Shinseki said.
Calling all HuffPost superfans!
Sign up for membership to become a founding member and help shape HuffPost's next chapter
BEFORE YOU GO
PHOTO GALLERY
Afghanistan War, By The Numbers