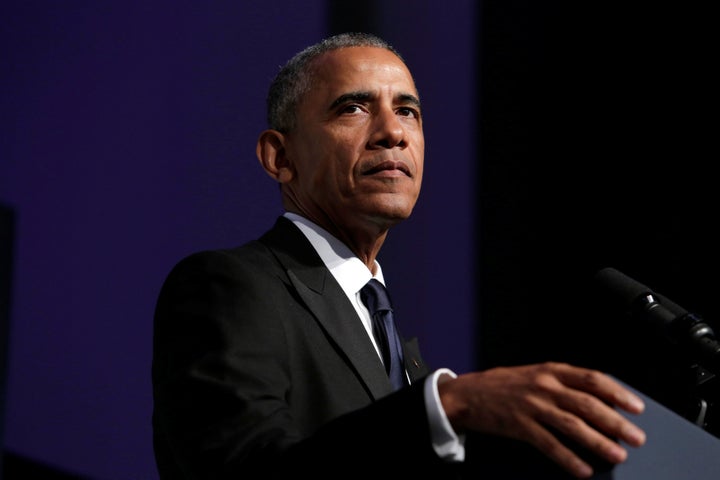 WASHINGTON ― President Barack Obama vetoed legislation on Friday that lets the families of 9/11 victims sue Saudi Arabia for its alleged role in the terrorist attacks. But for the first time in Obama's presidency, Congress has the votes to overrule him ― and it will next week.
Obama issued a lengthy statement as he vetoed the bill, known as the Justice Against Sponsors of Terrorism Act. In it, he said he has "deep sympathy" for the families of 9/11 victims and is "strongly committed" to helping them seek justice. But his concern is that the bill departs from longstanding practices relating to foreign governments' reliance on immunity from judicial processes.
"The 9/11 attacks were the worst act of terrorism on U.S. soil and they were met with an unprecedented U.S. Government response … I have continued and expanded upon these efforts, both to help victims of terrorism gain justice for the loss and suffering of their loved ones and to protect the United States from future attacks," he said. "The JASTA, however, does not contribute to these goals, does not enhance the safety of Americans from terrorist attacks, and undermines core U.S. interests."
Here's his full statement:
The White House has been protesting the bill for months, but even Democratic leaders disagree with Obama on this one. The bill prevents Saudi Arabia and other countries with alleged ties to terrorist groups from invoking their legal immunity in U.S. courts. It overrides the 1976 Foreign Sovereign Immunities Act, which grants immunity to countries that aren't designated state sponsors of terrorism.
Saudi Arabia denies any role in the 9/11 attacks, though 15 of the 19 hijackers were Saudi citizens.
Lawmakers haven't been swayed, though. They say the warnings are overblown and that 9/11 victims deserve justice. The bill sailed through the House and the Senate without a single "no" vote.
"If the Saudis did nothing wrong, they should not fear this legislation. If they were culpable in 9/11, they should be held accountable," Sen. Chuck Schumer (D-N.Y.), one of the bill's lead sponsors, said in a statement. "The families of the victims of 9/11 deserve their day in court, and justice for those families shouldn't be thrown overboard because of diplomatic concerns."
The House and Senate are both prepared to vote to override the veto next week, aides to GOP leaders told The Huffington Post on Friday.
Obama's not ready to throw in the towel yet.
White House Press Secretary Josh Earnest said administration officials are still lobbying lawmakers to reject the bill. He said that, behind the scenes, many are actually sympathetic to the White House's concerns.
"One of the particular challenges of counting votes in this instance is the frequency with which we hear private concerns expressed that don't match the public votes that are cast," Earnest said in his Friday briefing. "We continue to make a forceful case to members of Congress that overriding the president's veto means that this country will start pursuing a less forceful approach in dealing with state sponsors of terrorism, and potentially opens up U.S service members and diplomats and even companies to spurious lawsuits in kangaroo courts around the world."
He brushed off the significance of Obama preparing to be rebuked by Congress in a way he's never been before.
"This president has gone longer in his tenure in the White House than just about any other president in modern history before facing the prospect of having his veto overridden," Earnest said.
A group of 9/11 survivors and family members expressed disappointment with Obama's decision to veto the bill.
"We are outraged and dismayed at the President's veto of JASTA and the unconvincing and unsupportable reasons that he offers as explanation," reads a statement from the group, called 9/11 Families & Survivors United for Justice Against Terrorism.
"No matter how much the Saudi lobbying and propaganda machine may argue otherwise, JASTA is a narrowly drawn statute that restores longstanding legal principles that have enjoyed bipartisan support for decades," reads the statement. "We are deeply grateful for the unanimous bipartisan support that JASTA has in Congress, and we look forward to the Senate and House fulfilling their commitments by quickly overriding this veto."
This story has been updated with language from Obama's statement and a statement from 9/11 Families & Survivors United for Justice Against Terrorism.
Calling all HuffPost superfans!
Sign up for membership to become a founding member and help shape HuffPost's next chapter
BEFORE YOU GO
PHOTO GALLERY
10 Brutal Things Jon Stewart Said About Congress And 9/11