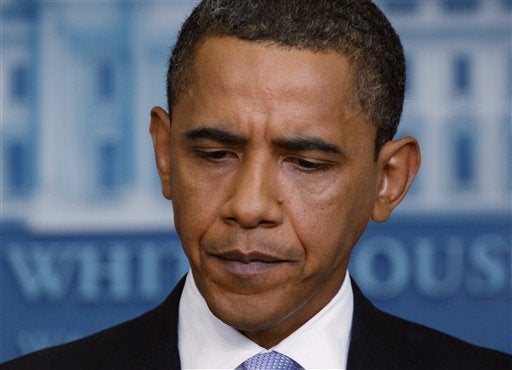 With nearly three years to go before the 2012 presidential election, President Obama's hold on the White House appears to be in jeopardy, according to the results of a Gallup Poll released Wednesday.
Registered voters nationwide favor Obama by a slim margin -- 44 percent to 42 percent -- over a generic Republican candidate. That gap is within the poll's 4 percentage point margin of error. Three percent said they would vote for a different candidate, and 11 percent had no opinion.
Among all adults, Obama leads a generic Republican by just one point, according to the Gallup survey.
WIth no obvious Republican frontrunner and increasing speculation about whether Sarah Palin is preparing for a presidential bid in 2012, the poll also provides a snapshot of which candidates Republican voters would prefer as their party's nominee. Topping the list is former Massachusetts governor and one-time presidential candidate Mitt Romney.
According to a sample of 490 Republicans and Republican leaners, Romney leads his fellow GOPers with 14 percent support. Sarah Palin comes in second with 11 percent. Perhaps more surprisingly, recently-sworn-in Massachusetts Sen. Scott Brown received 4 percent, ahead of former presidential hopefuls Mike Huckabee, Ron Paul and Fred Thompson as well as Minnesota Gov. Tim Pawlenty, who is often mentioned as a leading 2012 candidate.
In all, 36 percent of Republicans surveyed said they had no opinion about which candidate they want to be their party's nominee in 2012.
Here's a full breakdown of the Republican candidate results:

Mitt Romney: 14%

Sarah Palin: 11%

John McCain: 7%

Scott Brown: 7%

Mike Huckabee: 3%

Newt Gingrich: 3%

Ron Paul: 2%

Tim Pawlenty: 1%

Bob McDonnell: 1%

Fred Thompson: 1%

Bobby Jindal: 1%

Other: 10%

None (vol.): 6 %

No opinion: 36 %

The Gallup Poll was based on telephone interviews with 1,025 adults across the country between February 1 and 3, 2010 and has a 4 percentage point margin of error. The ranking of GOP candidates was based on a sample of 490 Republicans and Republican-leaning independents and had a 5 percentage point margin of error.
Popular in the Community