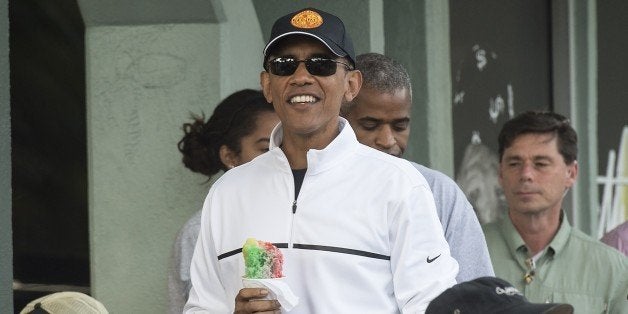 WASHINGTON -- President Barack Obama wants more tourists to visit the United States and spend their hard-earned cash, whether at the slot machines in Vegas, the beaches of Miami, the vineyards of California, or the pizza parlors of New Haven.
Obama on Friday will take a step toward that invitation with a report titled, "Supporting Travel and Tourism to Grow Our Economy and Create More Jobs." The report will outline executive actions at 17 of the nation's largest airports with the goal of convincing the world that coming to America isn't a cumbersome experience.
One of the main actions, previewed to The Huffington Post in advance of Friday's announcement, will be the creation of a Department of Commerce and Department of Homeland Security task force to institute "best in-class" arrival experiences for international visitors.
The administration will announce $20 million in public-private partnership money to fund the installation of 340 additional automated passport control kiosks at 13 airports. The goal is to reduce wait times for international travelers by 30 percent.
The Department of Homeland Security, meanwhile, will develop new technology to allow eligible travelers to use smartphones and tablets to submit passport information and custom declarations prior to formal inspections. Over the next two years, DHS will begin to phase out the requirement for air passengers to fill out paper 6059b Customs declaration forms.
"The United States is not alone in our efforts to attract international visitors and the jobs they support," reads a forthcoming blog post from Commerce Secretary Penny Pritzker and Homeland Security Secretary Jeh Johnson. "We are competing with countless global destinations; therefore, the Obama Administration is focused on efforts to improve how we welcome travelers into the United States."
The downside to streamlining the screening processes for incoming travelers, of course, is security. Less interaction with agents may mean fewer chances to flag or upend potential threats. But the administration is pitching the proposal as a win-win, since the reforms would free customs agents from administrative tasks and let them focus on security functions.
The president's pursuit of more revenue from foreign visitors has been years in the execution, in part stemming from the dip in travel to the U.S. in the years after 9/11, and competition from growing tourism industries elsewhere. In May, Obama issued a memorandum directing his secretaries of commerce and homeland security "to develop a national goal for improving service levels for international arrivals."
"The more folks who visit America, the more Americans we get back to work," Obama declared.
The administration in 2011 also launched Brand USA -- a public-private partnership that promotes U.S. travel to an international audience, much the same way Florida pitches its beaches to frigid New Englanders. Below is an ad by that campaign:
In 2012, the president issued the "National Travel and Tourism Strategy," with the goal of seeing 100 million international tourists come to America annually by 2021, spending an estimated $250 billion.
The country is well on the way to the goal. In 2014, an estimated 74 million international visitors came to America, spending a record $222 billion on food, lodging, recreation, gifts and other expenses. That money supported an estimated 1.1 million jobs, according to administration officials.
Want more updates from Sam? Sign up for his newsletter, Spam Stein.
Calling all HuffPost superfans!
Sign up for membership to become a founding member and help shape HuffPost's next chapter
BEFORE YOU GO
PHOTO GALLERY
Obama's Fist Bumps